U.S. Stocks Extend Losses After Rout; Yields Slide on ECB
Jeremy Herron and Emma O'Brien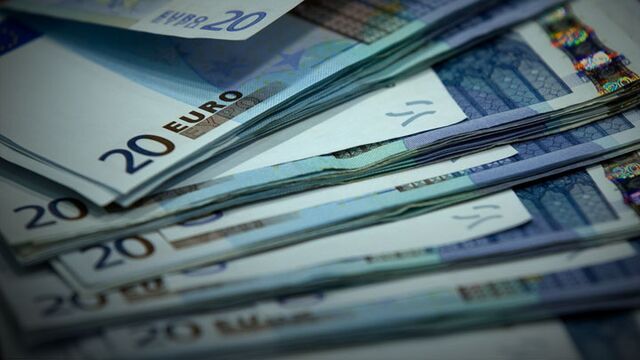 U.S. stocks fell, with benchmark indexes extending losses following the steepest drop in two months, as a slump in consumer and technology shares offset gains among banks. The euro sank to a 12-year low as European Central Bank bond buying sent yields across the region to record lows.
The Standard & Poor's 500 Index lost 0.2 percent by 4 p.m. in New York, after wiping out its 2015 advance on Tuesday. The Stoxx Europe 600 Index rallied 1.5 percent, the most since Jan. 23, while Europe's shared currency slid as much as 1.8 percent to the lowest level since March 2003. Demand for fixed-income assets saw bond yields from Spain to Finland fall to all-time lows, while rates on 10-year Treasuries fell for a third day as a U.S. bond auction drew global demand. Emerging-market shares sank a ninth day, as gold and U.S. crude oil retreated.
While the ECB embarks on quantitative easing and China cuts interest rates to stoke growth, last week's stronger-than-forecast U.S. jobs data is fueling speculation that the Federal Reserve may signal earlier rate increases when policy makers meet next week. The prospect of higher borrowing costs is fueling the dollar's ascendancy and suppressing stocks from the U.S. to Asia amid concern over its impact on profits. Thailand unexpectedly cut rates Wednesday, joining the easing wave.
"The mood has shifted toward a wait-and-see environment as investors await greater clarity on earnings and possible Fed action," Terry Sandven, who helps oversee $126 billion as chief equity strategist at U.S. Bank Wealth Management in Minneapolis, said in a phone interview.
Bird Flu
Treasuries advanced for a third day as the first auction of 10-year notes since the ECB began buying sovereign bonds drew close to the highest demand in three years from investors including foreign central banks. Benchmark 10-year note yields dropped two basis points, or 0.02 percentage point, to 2.11 percent.
Even as U.S. yields have dropped, the premium they offer over German bunds is at a 25-year high. Treasuries have also been supported by the dollar's rise.
Among stocks moving, Tyson Foods Inc. and Pilgrim's Pride Corp. fell more than 4.3 percent after suspected bird flu cases were reported in Arkansas. Intel Corp. rallied 2 percent and Micron Technology Inc. advanced 1 percent. Citigroup Inc. rose 2.2 percent and Bank of America Corp. added 2 percent following the steepest declines since April in S&P 500 financial stocks Tuesday.
Apple Drops
Apple Inc. fell 1.8 percent to a one-month low. The company's iTunes and App stores experienced outages Wednesday that prevented users from making purchases or downloading applications.
The S&P 500 has lost 0.9 percent in 2015 and is trading near its average price for the past 100 days. A 10 percent strengthening in the trade-weighted dollar lowers the estimated 2015 profit for the S&P 500 by about $3 a share, according to an earnings model created by Goldman Sachs Group Inc.
The Chicago Board Options Exchange Volatility Index rose 1.1 percent after surging 11 percent on Tuesday, the most since Jan. 30. The gauge known as the VIX plunged more than 36 percent in February, a record retreat, and has rebounded 28 percent so far this month.
"The markets are struggling with this on-again, off-again idea that the Fed is going to raise or not raise," Bruce Bittles, chief investment strategist at Milwaukee-based RW Baird & Co., which oversees $110 billion, said in a telephone interview. "VIX is in about the same place it was two weeks ago and yet market volatility has picked up pretty good. This is thought to be another opportunity where if the market continues to slump, it'd create another opportunity."
Bond Surge
Euro-area government bonds rose as the ECB embarked on the third day of its QE program. Policy maker Benoit Coeure said there'll be a scarcity of securities to buy, though not a shortage.
French government bonds climbed for a third day, pushing 10-year yields below 0.5 percent for the first time ever. Demand for fixed-income assets also sent rates to record lows from Spain to Italy and Finland to Austria.
The euro weakened against 14 of its 16 major peers, dropping the most versus the Mexican peso and South Africa's rand. The 19-nation currency declined 1.2 percent versus the yen. It fell to a five-month low against the krona after data showed the Swedish economy emerged from six months of deflation.
"The most important thing that QE is doing is giving Europe a fantastically cheap currency," said David Hussey, head of European equities at Manulife Asset Management in London. "This is shifting growth and demand around the world -- Europe is an export-led economic bloc and that's good news."
European Stocks
The Stoxx 600 rose after losing 1.2 percent in the past two days. All industry groups climbed on Wednesday, with carmakers adding 4 percent, the most in two months. BMW AG, which gets more than half its revenue from outside the euro region, increased 5 percent, and Daimler AG climbed 3.8 percent.
France's CAC 40 Index and Germany's DAX Index advanced the most among 18 western-European markets, adding at least 2.3 percent.
Brent crude snapped a five-day losing streak as its premium over U.S. oil prices widened from the least in three weeks.
European grade oil jumped 2 percent after slumping 7.6 percent in the past five days. West Texas Intermediate crude fell to a two-week low, losing 0.3 percent to $48.17 a barrel in a second day of declines, after the Energy Information Administration said U.S. crude supplies increased to 448.9 million barrels last week, the highest level since weekly data started in 1982.
Commodity Moves
Gold had its longest slump in six years and platinum fell to a 67-month low as the dollar's rally cut demand for precious metals as alternative assets.
Gold for immediate delivery sank 0.6 percent to $1,154.69 an ounce, dropping for an eighth straight day, the longest slump since March 2009. Earlier, the metal touched $1,147.69, the lowest level since Dec. 1.
Wheat advanced as much as 1.8 percent to $5.02 a bushel after the U.S. government made surprise cuts to its outlook for global stockpiles of the grain amid signs of improving demand. Corn rose as much as 1.5 percent.
The MSCI Emerging Markets Index dropped 0.3 percent, capping its longest decline since September.
China Data
Chinese stocks trading in Hong Kong fell to the lowest level since December after data showed industrial output posted its weakest start since 2009, and retail sales and fixed-asset investment trailed estimates. Hong Kong's Hang Seng China Enterprises Index slid for a second day, losing 0.8 percent. The Shanghai Composite Index gained 0.2 percent even as most stocks fell.
China's industrial output, investment and retail sales growth missed analysts' estimates in January and February, suggesting more stimulus may be needed. Bloomberg's gross domestic product tracker, which draws on that data as well as measures such as electricity production, shows economic growth slowing to 6.28 percent in the period, the weakest pace since the start of 2009.
The Thai baht slid 0.7 percent after the surprise rate cut. The Bank of Thailand's monetary policy committee voted four to three to lower the one-day bond repurchase rate to 1.75 percent. Turkey's lira climbed 1.1 percent from its lowest closing price on record amid speculation President Recep Tayyip Erdogan will signal he supports the central bank's autonomy.
Before it's here, it's on the Bloomberg Terminal.
LEARN MORE