Russian Probe Focuses on Held Chechen Suspect as Nemtsov Killer
Stephen Bierman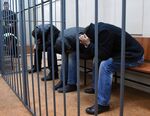 Russian investigators probing the murder of Boris Nemtsov are considering the possibility one of the men held in connection with the opposition politician's shooting was also the organizer.
Zaur Dadaev is suspected of pulling the trigger in Nemtsov's murder, the news service Interfax reported, citing an unidentified Russian law enforcement official. The Investigative Committee, which is leading the probe, declined to comment when contacted by Bloomberg. The accused gunman, who served as a deputy commander in the Chechen police's battalion "Sever," admitted involvement in the killing, according to Interfax.
Last month's murder of Nemtsov, 55, a former deputy prime minister and critic of President Vladimir Putin's regime, sparked fear and outrage among the country's besieged liberal opposition. The Kremlin-backed Chechen leader, Ramzan Kadyrov, linked the killing to the reaction to international support for French satirical magazine Charlie Hebdo after it was attacked by Islamist radicals.
"All who know Zaur will confirm that he's a person of deep belief, and he, as all Muslims, was shaken by the acts of Charlie and the commentary in support of the printed caricatures," Kadyrov said on his Instagram account late yesterday.
Kadyrov called the former Chechen police officer a "patriot" for his work fighting terrorists and said an investigation was ordered into his exit from law enforcement.
Men Held
Dadaev was one of five men from Russia's predominately Muslim Chechen region detained in connection with Nemtsov's murder yesterday. The arrests came a little more than a week after Nemtsov was shot dead on a bridge near the Kremlin. Putin called the crime "brazen" and pledged to bring the killers to justice.
Kadyrov, 38, an ally of the Russian president, has said that "Western agents" probably organized the Charlie Hebdo killings to trigger a "new wave" of Islamic State recruits for their war on Islam.
Russia fought two wars against Chechen rebels in the past 25 years in part to counter attacks that originated in the region and spread through the country. Kadyrov was installed by the Kremlin in 2007.
Nemtsov's allies and colleagues dismissed any attempt to link Islamists to his death. Ilya Yashin, an opposition leader who worked with Nemtsov, said such suggestions were "quite convenient" for the authorities by clearing Putin of any involvement. Writing on Facebook, Yashin said Nemtsov "never uttered a bad word about Islam" and like many others focused his criticism on the militants who murdered the French cartoonists.
Vladimir Milov, another opposition colleague of Nemtsov's, also brushed aside the possibility that the former Chechen official may have acted alone.
"The theory that officers in Kadyrov's structures could decide to commit that serious of a crime on their own doesn't hold up to criticism," Milov said on his blog. "I don't believe for a second in that serious of a violation in the chain of command in a the strictly centralized Chechen system."
Before it's here, it's on the Bloomberg Terminal.
LEARN MORE