Most Teach For America Instructors Plan to Flee Teaching
About 87 percent of the people the program trains as educators say they plan to leave teaching
by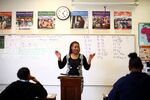 Teach for America, the mammoth nonprofit that grooms thousands of bright young college graduates to be teachers every year, is divisive. Advocates say TFA is on the front lines of fighting educational inequity; critics charge it's little more than a two-year pit stop for Ivy League graduates eyeing careers outside of education.
A new study from a nonpartisan research organization adds ammunition to skeptics' claims. More than 87 percent of TFA teachers say they don't plan on remaining teachers throughout their careers, compared with 26.3 percent of non-TFA teachers working in the same subjects, grades, and schools, according to an analysis released last week by Mathematica Policy Research (PDF).
The study suggests the risk of turnover is relatively high for the recent grads that become teachers through TFA's program. A full 25 percent of them said they would quit teaching after the current school year, compared with only 6.7 percent of non-TFA teachers. And of those who plan to quit, 42.9 percent of TFA teachers anticipated leaving education altogether, compared with 6.7 percent of non-TFA teachers.
The numbers point to attrition issues that, while perhaps endemic to the teaching profession as a whole, seem to be hitting TFA teachers --who are more likely than other teachers to be young, white, male, and educated at an elite college -- particularly hard.
"We do encourage our corps members to pursue leadership in whatever way feels most impactful for them. That said, we are seeking ways to continue to get better and provide more options for those who want to stay in the classroom," says Takirra Winfield, vice president of national communications for TFA.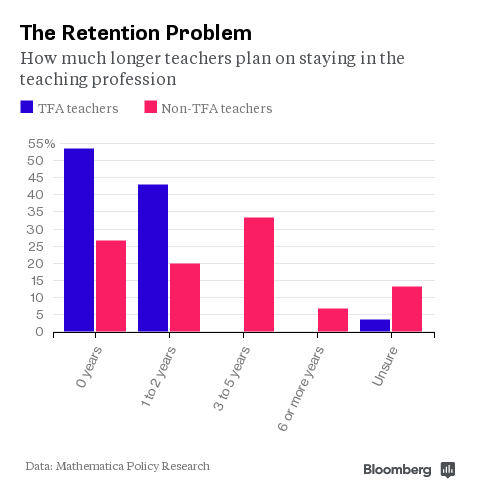 Turnover can be damaging to any organization. After all, it costs money to recruit, hire, and train new employees. Yet critics say what makes TFA's attrition particularly damning is that the organization puts teachers in exactly the types of low-income, under-resourced schools that could benefit from consistent leadership.
"I've heard stories from students who've said to me that they really like the TFA teachers, but they know they're going to leave," says Julian Vasquez Heilig, an associate professor of educational policy and planning at the University of Texas at Austin. "There's a psychological impact on the kids when they know the teachers aren't really committed to the school."
To be sure, turnover in teaching is a problem much bigger than just TFA. Richard Ingersoll, a University of Pennsylvania professor, estimates (PDF) about 41 percent of teachers will leave the classroom within five years—meaning teachers quit at a higher rate than nurses, lawyers, and engineers. TFA teachers, 12 percent of whom leave after their first year in the classroom, contribute an untold amount to that turnover rate.
When TFA teachers leave, it's not inconsequential. It costs $51,400 to fund each teacher for three years, starting from when the soon-to-be college graduates are recruited to when they finish their two-year teaching commitment, according to TFA's data. There's also a less tangible cost: the effect a rotating cast of teachers can have on children. "Students in grade levels with higher turnover score lower in both English language arts and math," researchers found in a 2013 study (PDF) published by the American Educational Research Journal. "These effects are particularly strong in schools with more low-performing and black students," they added.
Because teachers typically become much more effective starting in their third, fourth, and fifth years, according to Vasquez Heilig, it's possible many of TFA's inexperienced hires never reach their prime as teachers. "TFA should focus not on creating reformers who've only been in the classroom for two years before they run for a school board or go to law school, but think about creating teachers who are there for the long term," he says.
TFA has countered that, despite losing some of its young teachers every year, a large share of TFA alumni who do finish their two-year commitment continue to work in an education-related job. The organization has more than 37,000 alumni (defined as those who served the full two years), according to TFA's Winfield, of which she says about 11,000 are teachers, 900 are school heads, and 250 are leaders of district and charter school systems. TFA doesn't provide the number of TFA recruits who don't complete the two-year commitment, or who don't stay in teaching.
"Teaching is tough work," Winfield says. To try to boost the number of teachers who stay in the field, TFA launched a pilot program in several regions in 2014, offering graduate school and further coaching to corps members who can commit to an additional three years with the nonprofit.
TFA does struggle with turnover, she acknowledges, but it's an issue that she says is far from unique to her organization.
"We all need to do more on that front," she says.
Before it's here, it's on the Bloomberg Terminal.
LEARN MORE