Minute-by-Minute: Apple Watch Event Recap
by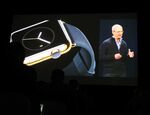 Apple is holding an event in San Francisco today for its first new product in years, the Apple Watch. Here's the latest from Sam Grobart:
2:36pm: Thanks for tuning in. Kirk out.
2:35pm: Yep. This show's over. Cook exits stage right.
2:34pm: "All our energy is on making the best products in the world that empower people and enrich their lives," Cook says.
2:33pm: We're in recap mode. Apple TV, now with HBO Now. ResearchKit and its promise for medical research. The new MacBook, and now the new Apple Watch.
2:33pm: Apple just showed an ad for the watch. Cook's now wrapping up.
2:30pm: Correction: The gold Apple Watch Edition has prices starting at $10,000, which caused some people in the room to gasp.
2:30pm: The gold Apple Watch Edition will sell for $10,000. "In select retail stores," Cook says. Preorders begin on April 10. The watches will be on sale on April 24 in some countries.
2:29pm: Cook's back on stage. The Apple Watch comes in prices from $549 to $1049 for the 38mm versions. The 42mm watch sells for $50 more.
2:27pm: Now we're watching a another metallurgy-porn video, this time about steel.
2:27pm: Next up the Apple Watch ladder is what's simply called the Apple Watch, which comes in a stainless-steel case. "But no ordinary stainless steel," Cook says, in on the joke.
2:26pm: Apple Watch Sport starts at $349 for the smaller 38mm model. It's $50 more for the larger, 42mm model.
2:24pm: We're now watching a video showing how special Apple's aluminum is. It's no ordinary aluminum, of course. It's 60 percent stronger than standard aluminum alloys, intones Ive.
2:23pm: The least-expensive line of Apple Watches is the Sport line, which comes in silver or Space Gray aluminum.
2:22pm: Cook is now talking about all-day battery life. What does that mean? 18 hours for a typical day. The magnetic inductive charger attaches to the back of the watch for repowering. 
2:21pm: Cook is back. He's talking about how the iPhone will serve as the place to get and load apps onto your watch with an Apple Watch app. Makes sense. Who wants to do all that stuff on a tiny screen?
2:20pm: This is all very nice, but nothing here isn't something that can't be done on your phone. The difference, of course, is that the watch is right there on your wrist.
2:20pm: An app from Alarm.com lets you open doors of your house, check a video feed from a security camera, and more.

2:19pm: You can dictate texts to the phone, or send an audio file.
2:17pm: An SPG (Starwood) app shows hotel-reservation information. The watch can unlock your door, so you can walk past the front desk and go straight to your room. The watch is your room key.

2:15pm: This is kinda interesting: The watch communicates with your phone via Bluetooth and WiFi, when available, so when you're home, your watch doesn't have to be within Bluetooth range (typically 30 feet) to work.
2:14pm: Lynch is doing a good job, but he's not showing us anything that we haven't seen before. It's more a demo of all the features that have been announced.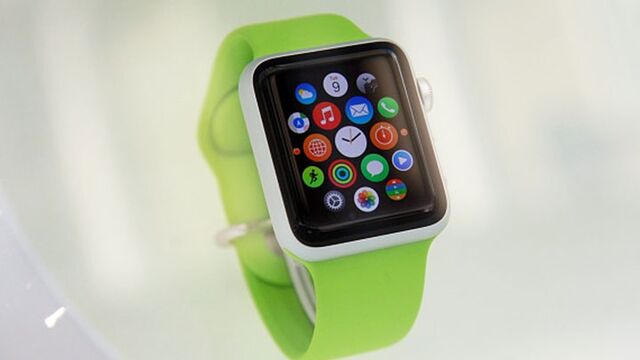 2:14pm: The odds are in Apple's favor on this point, as developers usually like building for iOS more than fragmented platforms like Android.
2:13pm: Third-party apps will make or break the Apple Watch, by the way. If Apple can make it as vibrant a platform as the iPhone, it will have a hit. If not, the watch will have troubling times ahead.
2:12pm: You can use Apple Watch to pay for things, using Apple Pay.
2.11pm: WeChat is also compatible with Apple Watch.
2:11pm: Saying "Hey Siri," kicks off Siri without using your hands. This has been an option on a plugged-in iPhone for a while.

2:10pm: At work, you can see upcoming appointments, check figures from Salesforce, see what's trending on Twitter, check your American Airlines flight info.
2:09pm: We're now moving on to third-party apps. Apple staffer Kevin Lynch is now going to show us how some of those apps may work.
2:09pm: There's also Apple Pay on the watch. You can control your music, watch photos and work with Siri. All notifications you get on your iPhone will appear on your watch.

2:08pm: Turlington is off the stage now. Cook is now moving on to other features.
2:07pm: (No offense, Infinity Blade guys! It was just too good a joke to pass up.)
2:07pm: This is far better/different than inviting on those jabronies from Infinity Blade, or the usual crop of developers that come onstage for Apple events.
2:05pm: And here she is! Cook is praising her for her humanitarian work.
2:05pm: Video's over. Presumably Christy is about to come onstage.
2:04pm: We're now watching a video with Christy, as she talks about using the Apple Watch while running marathons.
2:02pm: Oh, who am I kidding? 40-year-old me is pretty jazzed too. She was the best of the Supermodels (with possible exception for Naomi, because she brought the crazy too).
2:02pm: 15-year-old me just got really excited.
2:02pm: It's Christy Turlington!

2:01pm: We're now about to meet someone famous. Cook is about introduce a celebrity to talk about the fitness aspects of the watch.
2:01pm: I've said it before, by the way,but I totally call "Digital Touch" for my New Jack Swing band name.
2:00pm: There are also the usual fitness-tracking features which can track your activity and remind you to get up and move around.

1:59pm: Cook's now talking about Digital Touch, a suite of features that enables close-range communication between Apple Watch wearers. You can send your heartbeat to another phone, for example, and your recipient will feel your heartbeat vibrate through their phone.
1:58pm: You can also read full emails and take actions on messages.
1:58pm: The phone has a built-in speaker and mic so you can receive calls on your watch. "I've wanted this since I was five years old!" Cook says.

1:57pm: Cook is now talking about a new feature called Glances. Swipe from the bottom and you can access frequently used features like the weather, music controls, and the heart sensor.
1:56pm: You can choose the details you want to add the face. A stopwatch, the date, updates, etc.
1:55pm: And you can choose the face you want on the watch. Simple, classic, modern — all are available to you.

1:55pm: It's very accurate.
1:55pm: Cook's talking about the time accuracy of the watch.

1:54pm: Now we're seeing the things shown last time the watch was unveiled: aluminum, steel, gold.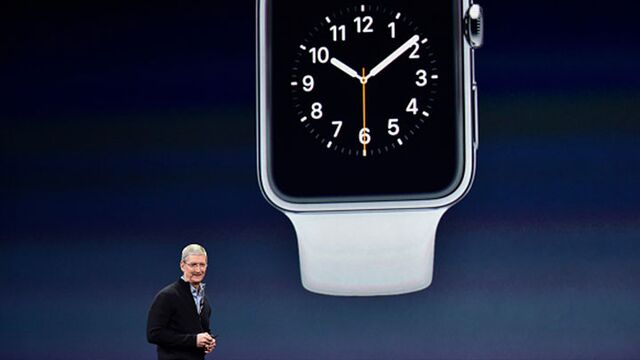 1:54pm: "The Apple watch is the most personal device we've ever created. It's not just with you, it's on you," Cook says.
1:53pm: Cook's back on stage. He's talking about the watch.
1:52pm: For $1,599, you get a faster processor and 2X the storage.
1:52pm: The new MacBook comes with 8GB RAM and 256GB of storage for $1,299.
1:51pm: And here comes Schiller back on stage. 
1:50pm: The video's still playing. It's basically recapping what Schiller said.
1:47pm: And now we are hearing the mellifluous stylings of Jony Ive, Apple's chief designer. His voice narrates a video about the new MacBook. Apple really lucked out with Ive. Not only is he a great designer, he's got that smooth, British voice they can use in videos. Can you imagine if he was from the Bronx? Or Baltimore? That'd be awesome.
1:46pm: The MacBook comes in three colors: Silver, "space gray" and gold.
1:45pm: The new connection standard supports USB, Power, HDMI and other standards. It's also reversible, like the Lightening cable.
1:44pm: Schiller's talking about the wireless capabilities of the MacBook. For those who need a wire, one connector, using a new industry standard called USB-C.
1:44pm: It's got 35 percent better battery life. Nine hours web browsing. Ten for video playback.
1:43pm: The new MacBook's battery is contoured, taking up more space in the smaller chassis.
1:42pm: With no fan and a smaller logic board,what do you fill that extra space with? "Batteries," Schiller says.
1:41pm: There's no fan. That's pretty impressive, in fact. Not only will the MacBook be quieter, it's more energy efficient (no fan to run).
1:41pm: We're now looking at the internals of the new MacBook.
1:39pm: "Force click" on things, and new features are enabled. A word can open up a Wikipedia entry. A map location can call up destination information.
1:39pm: The trackpad is now sensitive to the force you click on something. Press harder, and it's a different click than a lighter touch.
1:38pm: The trackpad is now called a Force Touch trackpad. It uses four sensors so you can click anywhere and get the same feel, not like older trackpads that were stiffer at the top.
1:38pm: It's Apple's thinnest display, but consumes 30 percent less energy, Schiller says.
1:37pm: A 12-inch display is Retina-grade. 2304 by 1440 pixels. Again, if you care about those things.
1:36pm: The new keyboard uses what Schiller calls "a more precise" keyboard. It uses a "butterfly" mechanism, as opposed to the older "scissor" mechanism (if you care about these things).
1:35pm: An all-metal enclosure surrounds a full-width keyboard that almost flows off the sides of the computer.
1:34pm: The new MacBook weighs 2 pounds. At its thickest point, it's 13.1mm thin. The previous MacBook Air was 17.3mm thin.
1:33pm: Apple marketing chief Phil Schiller is now onstage to talk about the new MacBook.
1:33pm: "It's unbelievable!" Cook says, holding it in his hand. "Can you even see it?"
1:33pm: Or, it can be, there's also a silver one. It's super thin, presumably with a Retina display.

1:32pm: It's GOLD!!!
1:32pm: A video begins. There's been a new MacBook rumored for a while now. We're going to see it now.
1:31pm: He's clearly gearing up for some new notebook.

1:31pm: "For every year, for the last decade, the Mac has outgrown the industry," he says.
1:30pm: Cook has returned to the stage, and he's now turning the conversation to the Macintosh.
1:29pm: The first five apps associated with ResearchKit will be available today.
1:28pm: Video's over. Williams is back onstage.
1:25pm: There's now a video playing showing medical researchers talk about ResearchKit is changing their work.
1:24pm: Williams is now talking about the privacy features of ResearchKit. All well and good, but come on — people are here to see the watch, not to hear from docs at Mass General talk about how an iPhone can make their jobs better. Or is that mean?
1:22pm: Google's building cars and laying fiber. Microsoft's long had a hardcore research division. Apple was generally thought of as a maker of things, but with efforts like this, they are trying to move into a higher echelon of research.
1:22pm: It's also interesting to note that this is a small example of how Apple wants people to think about the company's efforts to solve Big Problems.
1:20pm: Once again, Apple's trying to move the iPhone from being a consumer device to an enterprise device. The appearance of ResearchKit won't make anyone run to a Verizon or AT&T store to buy a new phone, but it helps establish the phone as a necessary tool across many categories.
1:18pm: There are problems in medical research, Williams says. Recruiting and subjective data are two of them. Data frequency is another. 
1:17pm: Which is a little odd, and Apple exec Jeff Williams is now onstage, acknowledging as such.
1:17pm: We're now working through some of the features of the iPhone. Right now, it's HealthKit
1:17pm: Cook is keen to talk about the iPhone's role in medical research.

Correction: We said earlier that the price of the Apple TV dropped from $99 to $69 per month. That's wrong: It's a flat fee. 
Before it's here, it's on the Bloomberg Terminal.
LEARN MORE