Jets' Chris Johnson Shot in Fatal Drive-By in Florida
Erik Matuszewski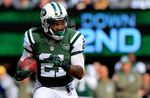 New York Jets running back Chris Johnson was uncooperative after being injured in a drive-by shooting in Orlando, Florida, that killed the driver of the vehicle in which he was riding, police said.
Johnson, 29, was in stable condition after being shot in the right shoulder early Sunday morning, according to the Orange County sheriff's office. He was released from Orlando Regional Medical Center and is recovering at home, ESPN reported, citing a statement from the player's representatives.
Johnson and two other men were in a Jeep in his hometown at 4:09 a.m. on Sunday when a car pulled up alongside at a red light and an unknown assailant started shooting. The driver of Johnson's vehicle, Dreekius Oricko Johnson, was found dead at the scene with a gunshot wound to the head, according to an incident report.
Chris Johnson and another acquaintance, Reggie Johnson, were found standing on the sidewalk when deputies arrived at the intersection, the sheriff's office said in a statement. No charges have been filed and the investigation is ongoing.
Chris Johnson was "uncooperative" and would only state that he saw "a car roll by and they shot," according to an incident report. The deputy who filed the report said Johnson and his acquaintance, who was shot in the right triceps and right thigh, couldn't provide a vehicle description or any other relevant information. Police said the three men weren't related.
Johnson, one of seven players in National Football League history to rush for 2,000 yards in a season, is set to become a free agent when the NFL's new league year begins today. The Jets said last month that they wouldn't pick up a $500,000 option bonus on his contract for the 2015 season.
Jets Season
Johnson in 2014 rushed for 663 yards and one touchdown in his lone season with the Jets. It was the first time in his seven-year NFL career Johnson failed to top the 1,000-yard rushing mark. He had 2,006 yards for the Tennessee Titans in 2009 and was voted the league's offensive player of the year.
Johnson in January was arrested in Orlando for openly carrying a firearm, a second-degree misdemeanor.
Before it's here, it's on the Bloomberg Terminal.
LEARN MORE