James Carville Blasts 'Cockamamie' Clinton E-mail Story
The longtime Clinton ally says the New York Times story came straight from Republican talking points.
By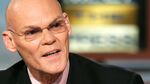 Democratic strategist James Carville went to bat for Hillary Clinton on Monday, downplaying the seriousness of Clinton's private e-mail use as secretary of state and disparaging the New York Times for breaking the story, which he said was taken from Republican talking points. 
"All of this is just the same cockamamie stuff that we go through," the longtime Clinton ally said on MSNBC's Andrea Mitchell Reports. "The Times gets something from some right-wing talking points. They plant the story. They've got to walk the story back. ... This is never going to end. We've lived with this for 20 years. We'll live with it for the rest of the campaign. It's all about nothing."
Mitchell pointed out that Clinton's fellow Democrat, California Senator Dianne Feinstein, said Sunday that silence would hurt Clinton. Mitchell added that "Democrats are saying to every political reporter in town that this should at least be addressed."
"You can go find a Democrat that says anything," Carville said.
Carville said Clinton's actions were "legal in accordance with regulations" and added that Colin Powell did the same thing when he was secretary of state. He said he expects Clinton to address the matter soon and for it to blow over.
"I'm sure at some point she'll say something about it, but the next day there'll be something else and the next day there'll be something else," he said.