Inside the Secret, Years-Long Experiment to Find the Next Head of SoftBank
Pavel Alpeyev and Takashi Amano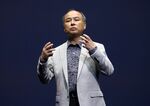 One or two evenings a month, 300 people gather on the 25th floor of SoftBank Corp.'s Tokyo headquarters for a secretive experiment in corporate succession. The sessions are a cross between night school and a job interview, aimed at finding a replacement for founder Masayoshi Son.
The candidates, employees and outsiders who sign contracts vowing not to disclose material from the discussions and lectures, are rated every session, with the bottom 20 percent cut once a year. Top-ranked today is Nobumasa Mizutani, a 36-year-old who left an investment banking job to join SoftBank and what it calls Academia.
SoftBank agreed to discuss the program on the record for the first time, as Son approaches a possible handoff of control. The 57-year-old billionaire has said he plans to retire in his 60s and laid out his vision for the next 30 years. While it's too early to judge effectiveness of the program headed for its fifth anniversary in July, Son is right to begin the search now, according to analyst Hideki Yasuda.
"Considering that it would take about five years to field-test a candidate, starting any later would be too late," said Yasuda, a Tokyo-based analyst at Ace Research. "Timing is very tricky: start too early and you might have a rival on your hands. Too late is no good either."
Jack Welch began formal succession-planning more than seven years before he stepped down as the chief executive officer of General Electric Co., according to a 2001 Fortune article. The high-profile process relied heavily on Welch getting to know the candidates.
'Colorful Characters'
"There are a lot of colorful characters," Mizutani said in an interview in Tokyo. "You know exactly where you rank, so you have to man up and take it. The system is designed to rouse your battle instincts."
Mizutani had a public relations minder at his side throughout the interview, pausing for nods of approval before answering questions or after every few sentences of his answers. He declined to comment on certain issues, including how often Son joins the seminars, the subjects of lectures and what actually happens at the meetings.
The man in charge of Academia is Fumihiro Aono, a gregarious 53-year-old who has spent nearly 30 years in human resources. The past 10 have been at SoftBank, where he oversees hiring, general affairs and the chief executive's office.
Son has already used Academia to draw some of the best, brightest and most innovative into his company, Aono said. SoftBank didn't make Son available for interview.
Top Secret
The reason for all the cloak-and-dagger, he said, is that candidates get lots of confidential information about SoftBank. For example, participants, including about half that aren't employees, developed strategies for doubling subscribers in the company's discount smartphone business after hearing a detailed presentation from the unit's executives.
SoftBank's $22 billion acquisition of Sprint Corp. was discussed right after the announcement, a current student said, asking not to be identified because the details are confidential. Son's message was pitch your idea and we'll use it if it's good, the person said.
Participants have been asked to study historical figures including Napoleon Bonaparte and Emperor Qin Shi Huang, who unified China and created the Great Wall, then apply the lessons to a 300-year business plan for SoftBank, Aono said. There is also a custom-made management simulation board game that lasts all day, he said.
Thinking Big
"When I report to Son on Academia's progress, it's very detailed, with candidates' pictures and all," Aono said. "He wants to know what new proposals and synergies were produced, how many people joined SoftBank, companies created."
Academia is aimed at getting prospective heirs to think through big, strategic questions, from M&A to price competition, and go beyond the management skills for day-to-day operations.
"In Japan, you typically have to work your way up from middle management to the executive class inside a company," Ace Research Institute's Yasuda said. "This produces people who are very familiar with daily operations, but don't necessarily make great leaders. Son is well aware of this problem, that's why he's taking matters into his own hands."
Son's personal involvement is one of the reasons the program attracts entrepreneurs, doctors, lawyers and executives. For Mizutani, it was a decisive factor in choosing to leave his fund manager job for a position in Son's office last September.
"Son says what he thinks more deeply in a closed place; that's the best part of Academia," said Mizutani. "Son in Academia is different from what he usually is. He is closer."
Power and Charisma
In his appearances at Academia, Son wore casual chinos and polo shirts, never lost his temper and was generous with praise, according to the person who attended the lectures. He poked fun at himself, joking about being the rising sun when podium lighting reflected from his balding pate. One evening, Son stood up throughout a three-hour speech he was giving, going two hours over limit, the person said.
"Son possesses charisma one rarely sees in Japanese company heads," said Kazumi Kawana, a professor at Takachiho University in Tokyo who studies entrepreneurship and succession issues. "Finding someone who has overcome as many hurdles as him is really hard. It's like stepping into Steve Jobs' shoes at Apple."
Building Empire
Born in Japan to Korean parents who had migrated to the country, Son has said the humble origins helped fuel his ambitions. At the unveiling of SoftBank's 30-year vision in 2010, Son wept as he recalled his makeshift childhood home that didn't even merit a mailing address, his grandmother collecting food scraps from neighborhood restaurants to raise pigs and his father's illness.
Son left home at 16 to study in the U.S., where his entrepreneurial streak emerged. While at the University of California at Berkeley, he invented a voice-operated multilingual translator that he sold to Sharp Corp., making his first $1 million.
His fortune is now estimated at $12.1 billion, according to the Bloomberg Billionaires Index. Son took SoftBank from an exporter of Space Invaders arcade machines to a technology empire that encompasses mobile phones, games and movies with stakes in more than 1,000 companies including Alibaba Group Holdings Ltd., Legendary Entertainment and SuperCell Oy.
Succession Peril
He now faces the challenge of succession that has confronted founders from Microsoft Corp.'s Bill Gates and Apple Inc.'s Steve Jobs to Howard Schultz of Starbucks Corp.
"Founders are almost always blindsided by demands for a change in CEO," said Noam Wasserman, an associate professor of business administration at Harvard Business School who studies founder-CEO succession in tech startups. "It can become a make-or-break inflection point for both the company and the founder."
Son acknowledged the danger when he announced in 2010 the creation of Academia, named after Plato's school that included Aristotle as one of its students. Son has ruled out keeping succession in the family, a path common at Japanese companies including robot-maker Fanuc Corp.
Academia is a long-term project and may need another 10 years to produce talent capable of managing a company like SoftBank, Aono said. He is confident the program will yield its next generation of leaders.
Mizutani, who had worked at Mizuho Trust & Banking Co., is now a senior manager in the CEO's office and one of Son's lieutenants. Academia has helped recruit about 10 executives and fast-tracked the careers of high-potential employees, Aono said.
Mizutani said fund manager qualities are an absolute must for the successor and global experience is another important criterion.
"The successor will be inheriting more than just Son's seat at the company, but the entire SoftBank world-view," Mizutani said. "I may be top of Academia at the moment and working directly for Son, but it doesn't feel like I'm any closer to that."