Holcim-Lafarge Merger Still Makes Sense, Schmidheiny Says
Jan-Henrik Förster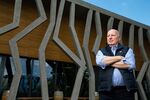 Holcim Ltd.'s biggest shareholder, Thomas Schmidheiny, said the agreed merger with Lafarge SA to form the world's biggest cement maker still makes sense, one day after a newspaper reported the deal might be in danger because he seeks better terms.
"The industrial logic of the deal is undisputed," Joerg Denzler, a spokesperson for Spectrum Value Management, which represents Schmidheiny's holding, said via phone.
Schmidheiny's comment may reassure Lafarge investors that the deal will go through even as a gap in performance between the two companies is putting pressure on Holcim to renegotiate some terms. Since announcing the planned combination in April to create a cement maker with about $40 billion in sales, Holcim has outperformed Lafarge, on average, in sales performance, profit and cash from operations.
Schmidheiny, who owns about 20 percent, seeks a better exchange ratio or special dividend for Holcim shareholders, Switzerland's SonntagsZeitung reported yesterday, citing people close to the investor and a Holcim director it didn't identify. Denzler today declined to comment whether Schmidheiny seeks to alter the deal. Holcim also declined to comment.
Shares of Lafarge fell as much as 3.1 percent earlier today and partially recovered after Schmidheiny's comments. The stock was down 1.1 percent as of 11:30 a.m. Holcim gained 1.2 percent in Zurich.
Deal Structure
Holcim and Lafarge agreed last year to merge to unite operations after the global recession eroded demand for building materials, and as increased competition from emerging-market rivals undermined profits. The companies expect the combination to generate synergies of more than 1.4 billion euros ($1.5 billion).
"While speculation continues to grow around a possible change in terms we see very little chance of the merger failing," J&E Davy analysts said in a note today. "We expect Holcim and Lafarge will do what it takes to conclude the deal."
Still, the 1:1 share-exchange ratio is a disadvantage for Holcim shareholders, and the Swiss firm's outlook on a stand-alone basis would be better, a Swiss shareholder with about 1 percent of Holcim, who asked not to be identified publicly criticizing the deal, said last month.
Eurocement Holding AG, the company's second-largest shareholder, is also concerned about the deal's structure, according to people familiar with the matter.
To placate shareholders, Holcim and Lafarge are considering paying a special dividend after agreeing to sell assets to CRH Plc for 6.5 billion euros to address antitrust hurdles, two people familiar with the discussions said last month.
For the merger to go through under its current terms, at least two-thirds of Holcim shareholders still must approve a capital increase. They'll vote on it at an extraordinary meeting that's expected to be held in the first half after the company's annual meeting due April 13.
Before it's here, it's on the Bloomberg Terminal.
LEARN MORE