Gun-Toting Fishermen Policing Town Show Mexico Security Hole
Eric Martin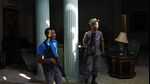 Visitors who drive down the winding dirt road to the Mexican village of Nuevo Balsas are met by fishermen, farmers and teenage boys brandishing rifles.
Most of the time, they're the only law enforcement to be seen, according to locals.
A deputy commander of the militia, who identified himself as David out of concern for his security, said they were forced to take up arms to defend their families from robberies and rape by drug cartels. In early February, 13 people were kidnapped from near Nuevo Balsas. They included two contractors for Torex Gold Resources Inc. and one direct employee of the company, which is building a mine in the area. On Friday, four more mine workers, this time from Goldcorp Inc., went missing nearby in another apparent kidnapping, according to authorities.
This is rural Guerrero state, where 43 college students were massacred by heroin traffickers working with local police and a mayor in September, according to a federal investigation. The national government arrested 100 suspects over the slaying and took control of security in the area, making it a test case for President Enrique Pena Nieto's goal of reimposing order on a country riven by drug violence.
'Permanent Help'
"We haven't seen an improvement in security," David, who several militia members deferred to as their leader, said in a Feb. 9 interview. "We've asked the federal government for permanent help, but the violence here continues. We want the world to know that the problems in Guerrero are bigger than 43 people."
Failure to bring the situation under control in Guerrero could signal challenges for providing the security needed for economic growth and development of the energy industry in states like Tamaulipas and Veracruz, other areas where criminal gangs are active.
Torex shares fell 12 percent, the most since October, to 95 Canadian cents in Toronto trading today. The company's stock has tumbled 31 percent since the kidnapping on Feb. 6 and now trades at the lowest level in more than a year. Goldcorp dropped 2.5 percent to C$23.43 today.
Mexico is seeking to attract foreign investment to reverse a decade of declining crude output, and analysts surveyed by the central bank consistently rank public security problems as the top obstacle to economic growth. Pena Nieto in a December speech promised to spur development in Guerrero, saying Mexico can't be a country where some areas are immersed in globalization while other regions are mired in poverty and violence.
Heroin Center
Nuevo Balsas sits in the mountains of Guerrero about 250 kilometers (155 miles) southwest of Mexico City. About 50 kilometers up the road that eventually leads to the nation's capital is Iguala, where the students were kidnapped five months ago.
Residents say the city of about 140,000 remains plagued by violent crime, with 14 people slain in a three-day period at the end of February, according to Mexico City-based newspaper El Universal.
Guerrero is a center of heroin and marijuana production and home to drug cartels including the Guerreros Unidos and Los Rojos. Like other gangs in Mexico, they are diversifying into extortion and kidnapping after the government under then-President Felipe Calderon stepped up efforts to combat drug trafficking starting in 2006 and cracked down on the biggest cartels, causing splintering and more violence among rival groups.
'Long Neglected'
Guerrero had Mexico's highest homicide rate at 63 per 100,000 people in 2013, the most recent year for which the data is available, according to statistics agency Inegi. The state is Mexico's poorest after Chiapas, with gross domestic product per capita of about 65,000 pesos ($4,200), according to research last year by Citigroup Inc.'s Banamex unit.
"This is a state that has long festered, long been neglected," said Vanda Felbab-Brown, a senior fellow at the Brookings Institution in Washington. "There's a broad sense within Mexico that Guerrero is on its own in the wilderness."
After the student massacre, Pena Nieto pledged to take steps to make sure that such a crime was never repeated.
A Pena Nieto administration official, speaking on the condition of anonymity to discuss ongoing security operations, said the government recognizes that the strategy of sending more forces hasn't had much immediate effect. Pena Nieto didn't expect decades-old security problems to be solved in a matter of months, and Guerrero needs stronger state and local institutions to partner with the federal government, the official said.
Economic Opportunity
The increased federal presence in Guerrero includes members of the army, federal police, navy and the Center for Research and National Security, a Mexican intelligence agency controlled by the Interior Ministry, the official said. He declined to say how many troops or officers are involved and said making that information public could help the criminals.
A person familiar with federal police operations, who also asked not to be named, said 1,200 officers are deployed in Guerrero. The Defense Ministry didn't respond to an e-mail requesting information on how many troops are in the region.
Pena Nieto has said creating economic opportunity in Guerrero will be an important part of improving security. That won't be easy.
Workers building a mine for Toronto-based Torex, one of the few foreign companies and biggest employers operating in this part of Guerrero, were victims of the latest mass kidnapping. About 300 people work directly for Torex at the mine site and 1,600 more work for contractors, according to the company.
Victims Freed
After the militia drove the drug gangs out of the area near the mine in 2013, the gangs returned this year. Hours after the Feb. 6 kidnapping of the people, some from the road between Nuevo Balsas and the town of Cocula and others from a nearby fishing site, one victim was released and sent back to the village with a message: the narcos were back, and they wanted their cut from the mine profits, David said.
Ten more of the victims were freed within two days by federal police working with the militia and the army. The final two victims, including the Torex employee, were held hostage for two weeks and freed only after their families paid ransoms that the community helped them raise, according to David.
David said he also once worked for a Torex contractor. Now, like many in the village who don't work at the mine, he lives off the community's fishing and subsistence farming, which includes raising chickens and pigs and growing corn.
'Particularly Vulnerable'
Torex is working with the government and the community on an agreement to increase the presence of official security forces in the region, said Fred Stanford, Torex's chief executive officer.
"All of the people were recovered, but during that process the community felt particularly vulnerable," Stanford, who visited Nuevo Balsas at the end of last month, said in a phone interview. "What they're uncertain of moving forward is if they'll be left exposed again. If we get a permanent force in there, it will be better for the community."
Torex has its own private security force that protects workers on the grounds of the mining project, Stanford said.
The four missing Goldcorp workers disappeared from the municipality of Eduardo Neri, which borders Cocula, and authorities are working to locate them, the Guerrero attorney general's office said in a statement on its website on Friday. They appear to have been kidnapped after finishing their work for the week and leaving for their homes, according to the statement. Goldcorp, which owns the Los Filos mine in the area, declined to comment.
Permanent Presence
The federal police and army visit Nuevo Balsas during a crisis, but they don't maintain the kind of permanent presence that could prevent attacks, David said.
"To the extent that forces are just parachuted in or out, they won't become effective actors, they won't instill a sense of security or motivate people to cooperate with them," Felbab-Brown said. "I don't think we have signs yet that the government's strategy is working."
The road from Nuevo Balsas to Cocula, about 35 kilometers away in the direction of Iguala, stretches along hairpin turns through the mountains. At one point it reaches a ridge where locals say kidnappers have hidden in wait for victims. The journey is considered so dangerous that residents don't drive it after sundown, and vehicles leaving for Cocula in the days after the kidnapping traveled by caravan.
Gold Banner
In Cocula's center, across from the plaza and gazebo that serve as the focal point of life in the small town, a shining gold banner hangs against an outside wall of the federal police station, proclaiming the presence of an elite police unit, the gendarmerie, launched by Pena Nieto last year. An officer stands guard at the front as police come and go.
Down the street, a woman who owns a general store that sells soda and chips, including to Torex workers, said that even with the officers there she closes up at 5 p.m., instead of 7 p.m. before the Iguala massacre, out of fear for what could happen once darkness falls. She asked not to be identified by name out of concern for her safety.
Pena Nieto's efforts to restore law and order in Guerrero have succeeded in uncovering alleged corruption in local and state government.
Alleged Corruption
The mayor of Iguala, the municipality neighboring Cocula where the students went missing, was arrested along with his wife in November after a month on the run. The government says they were working with the Guerreros Unidos gang responsible for the massacre.
Federal prosecutors last month also arrested the brother of former Guerrero Governor Angel Aguirre, who took a leave of absence in October after the students disappeared. Carlos Aguirre and former state officials are accused of misappropriating 287 million pesos ($18.5 million) from government agencies.
"In order for the security strategy to work, you need a partner, and the partner should be the local government," said Alejandro Schtulmann, president and head of research at Mexico City-based political risk consulting firm EMPRA. "In Guerrero, that's the main obstacle to progress."
In Iguala, where in early November hotels were filled with police and investigators during their search for the students, the presence of federal forces has tumbled, said Taurino Castrejon Salgado, a local lawyer and activist. A visit on Feb. 9 to the town square once patrolled by soldiers with machine guns found no obvious security presence.
Castrejon, speaking by phone three blocks from the town square, abruptly asked to hang up and continue the conversation later, saying he had stumbled upon a crime scene that included police standing over a body in a pool of blood.
"The security situation is as bad or worse than it was before the students disappeared," Castrejon said. "We don't see federal police like in the weeks after the disappearance. People don't feel any more safe."
Before it's here, it's on the Bloomberg Terminal.
LEARN MORE