Galapagos Evolves Into Target With 'Darwin' Drug Trial
Makiko Kitamura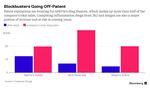 Galapagos NV's promising arthritis pill makes it a tempting takeover target for two pharmaceutical giants -- AbbVie Inc. and Johnson & Johnson -- that just fought it out last week over an acquisition.
The $650 million Belgian drug developer is poised to announce the results from a mid-stage trial, dubbed Darwin 1, of its experimental treatment filgotinib by mid-April. The company's partner, North Chicago, Illinois-based AbbVie, and J&J, which already owns a stake in Galapagos, are both losing patent protection for their own blockbuster arthritis remedies, Humira and Remicade.
Galapagos, whose shares have more than doubled since mid-October, is a lure for bigger pharmaceutical companies racing to bolster their drug pipelines. With filgotinib, it offers a candidate in a new class of oral drugs that may make up almost a quarter of the $27 billion rheumatoid arthritis market by 2020, according to Bryan Garnier & Co.
"It's all about staying ahead of the curve," said Asthika Goonewardene, an analyst at Bloomberg Intelligence in New York. AbbVie and J&J "are definitely looking to reduce their reliance on their older arthritis drugs."
AbbVie last week trumped Johnson & Johnson and Pfizer Inc. with a last-minute bid to buy Pharmacyclics Inc. and its cancer drug Imbruvica for $21 billion. That price is less than half the value of AbbVie's failed $52 billion offer for Shire Plc, suggesting that the U.S. company has the capacity to make more acquisitions, Robyn Karnauskas, an analyst at Deutsche Bank wrote in a note to clients on March 5.
Pipeline Needs
J&J's unsuccessful offer for Pharmacyclics shows that the New Brunswick, New Jersey-based company is also scouting for acquisitions, said Chris Pultz, a money manager at Kellner Capital, an event-driven investment firm in New York.
"Now we know J&J's in the market," Pultz said. "They're going to be looking for somebody else to buy because they're in kind of the same situation that everybody else is -- they need to fill pipeline."
Raquel Powers, a spokeswoman for AbbVie, declined to comment on the company's potential interest in acquiring Galapagos, as did Brian Kenney, a spokesman at J&J.
Filgotinib offers buyers the potential of owning what may be one of the next blockbuster arthritis treatments. Hugo Solvet, an analyst at Bryan Garnier in Paris, estimates annual sales for the drug could peak at 2 billion euros ($2.2 billion).
Nine companies competed for rights to help Galapagos develop and sell filgotinib more than three years ago, Chief Executive Officer Onno van de Stolpe said in a March 6 interview.
Stock Surge
Shares of Mechelen, Belgium-based Galapagos rose 5.6 percent, the most since Jan. 9, to close at 20.90 euros in Amsterdam. They have climbed from as low as 10.19 euros last October in anticipation of the trial results for filgotinib, starting with the first of two phase-2b data sets to be released next month, said Peter Welford, an analyst at Jefferies LLC in London.
While the Galapagos board would review any potential takeover offers, the company prefers to remain independent, van de Stolpe said.
"I hope Galapagos gets the time to develop into a fully integrated company and develop as a large biotech," he said.
AbbVie's Humira had $12.5 billion in sales last year and J&J's Remicade generated $6.9 billion in revenue, making them two of the top-selling drugs of 2014. Humira will start losing some patent protections in the U.S. in 2016, though Bloomberg Intelligence analyst Aude Gerspacher said AbbVie may have protection beyond that date because of other patents it holds. Remicade loses patent protection in the U.S. in 2018.
New Treatment
Filgotinib, also known as GLPG0634, is one candidate in a new class of drugs called JAK inhibitors that are being developed to treat inflammatory diseases including rheumatoid arthritis. It would compete with baricitinib, under late-stage development from Eli Lilly & Co. and Incyte Corp., as well as Pfizer's Xeljanz, approved in 2012.
Unlike Humira and Remicade, which are injected, filgotinib is a pill, making it an attractive option for patients, van de Stolpe said.
"When you consider that GLPG0634 might come to market in 2018 when Humira and Remicade will be off patent, you can see the huge interest in this Galapagos compound," Solvet at Bryan Garnier said in a phone interview. He advises clients buy Galapagos shares.
AbbVie's Incentive
AbbVie in July will see the results of 24 weeks of treatment with filgotinib, and will then have 60 days to decide whether to license and move the drug into final-stage testing, said Elizabeth Goodwin, head of investor relations at Galapagos.
"AbbVie has a clear incentive to bring a new generation in the rheumatoid arthritis-treatment space to the market," van de Stolpe said. "They want to protect their franchise and they were looking for a best-in-class in small molecules. Clearly, our filgotinib has that profile."
AbbVie is also conducting a mid-stage trial for its own JAK inhibitor, ABT-494, which is scheduled to be completed this year.
That means AbbVie may have the opportunity to compare the two before deciding whether to proceed with filgotinib, said Guillaume van Renterghem, an analyst for UBS AG in Zurich. Still, AbbVie management has indicated there is a role for both drugs in the inflammation arena, according to Powers, the spokeswoman.
The two companies also have links beyond arthritis: AbbVie and Galapagos expanded their collaboration on filgotinib in 2013 to include Crohn's disease; results from a mid-stage trial for that condition are expected by the end of this year. The companies are also working together to develop a separate drug for cystic fibrosis.
J&J Stake
J&J, which already has a 7.8 percent stake in Galapagos, in December terminated a partnership with Japan's Astellas Pharma Inc. on its JAK inhibitor, opening the door for Galapagos. It also formed a collaboration with the Belgian company in 2007 on a compound for lung diseases.
J&J last year acquired Covagen AG, a privately-held Swiss company whose lead product is in early-stage testing in psoriasis and holds potential in a broad range of inflammatory disease including rheumatoid arthritis.
"We look to build upon our portfolio of Remicade, Simponi and Stelara and are committed to advancing future innovative therapeutics for the treatment of rheumatoid arthritis," J&J's Kenney said by e-mail.
Amgen Alternative
Amgen Inc., the maker of the arthritis treatment Enbrel, could also be interested in Galapagos, said Welford of Jefferies. The last patent expiration on Enbrel, which generated sales of $4.7 billion in 2014, comes in 2029.
Cuyler Mayer, a spokesman for Amgen, declined to comment on the company's potential interest in Galapagos.
Given the cheap cost of capital and pharmaceutical companies' large cash piles, paying a big premium for Galapagos won't be an issue for most firms even if bidding does get competitive, according to Goonewardene at Bloomberg Intelligence.
"AbbVie holds all the cards at the moment," Welford said. "But in theory, any of the companies in the rheumatoid arthritis space could be interested."
Before it's here, it's on the Bloomberg Terminal.
LEARN MORE