Bracing for Biotech Copycats, Amgen Plans Its Own Imitations
Anna Edney and Caroline Chen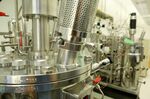 At a state-of-the-art facility in Thousand Oaks, California, drugmaker Amgen Inc. is perfecting the art of copying others.
The 25,000-square-foot (2,300-square-meter) plant is filled with stainless steel tanks that can hold as much as 2,000 liters, each covered with a multitude of dials, buttons and protruding pipes. This is where Amgen tests ways to grow Chinese hamster ovary cells to make its own drugs -- and imitations of other companies' medicine.
Taking advantage of a 2010 U.S. law, Amgen has prepared one of the most ambitious pipelines in the industry to develop drugs that mimic its rivals' biologic treatments. The company plans to have as many as five such products, known as biosimilars, on the market by 2019.
Amgen must act fast, because copycats are coming for its drugs, too. Thanks to a regulatory ruling last Friday, the biotech company's cancer drug, Neupogen, will be the first biologic medicine in the U.S. to face competition from a government-approved biosimilar. That imitation, made by Novartis AG, could represent a threat to more than $7 billion in annual revenue for Neupogen and related medicine Amgen sells.
"There's already lots of competition, and we're used to having to compete on value," said Geoff Eich, executive director of Amgen's biosimilars division. "This is the natural evolution."
Analysts are split on Amgen's chances for success, with 15 recommending buying the stock and 14 with a neutral rating. The shares have gained 24 percent in the past year, compared with a 17 percent gain for the Standard & Poor's Pharmaceuticals, Biotechnology and Life Sciences Index.
Big Debate
"How much will they lose? How much will they gain?" said Eric Schmidt, a senior research analyst with Cowen & Co. in New York. "It's one of the biggest debates -- if not the biggest -- around the stock."
Pharmaceutical companies have long contended with competition from generic drugmakers, who copy off-patent medicine and drive down costs. Yet biotech drugs are composed from living organisms, making them difficult to duplicate exactly. That means treatments by companies like Amgen, made for diseases like cancer and arthritis, have never had such competition.
The embrace of biosimilars is a shift in tone for Amgen, which was one of the largest members of the Biotechnology Industry Organization when it lobbied late in the last decade for strict regulations of the copycat treatments.
Lower Class
While generic drugmakers, which make cheap, simple molecular copies, are viewed as a lower class in the pharmaceutical industry, the complexity of biosimilars is attracting brand-name companies like Amgen and Pfizer Inc. to the field.
Amgen is also one of the most vulnerable drugmakers to competition from biosimilars, along with Roche Holding AG and AbbVie Inc., said Michael Yee, an analyst with RBC Capital Markets. All three have blockbuster biologic drugs that are near the 12-year mark that legally opens them to competition. Neither Roche nor AbbVie is developing its own biosimilars.
"There haven't been situations where people are trying to straddle both sides of the fence" prior to Amgen, he said.
In a statement, Roche said its focus is on developing innovative medicine and diagnostics. "The production of biosimilars, therefore, is not part of our business model," the company said. AbbVie also said in an e-mail that it's focusing on innovative therapies.
Same Sites
Developing a biosimilar takes as long as 10 years and about $200 million, double the time and hundreds of millions more than it takes to develop a traditional generic, Eich said.
At the Thousand Oaks facility, manufacturing methods are tested for use at Amgen plants in Rhode Island and Puerto Rico. Scientists at the plant refine the steps needed to generate billions of cells, carrying antibodies that Amgen will harvest to turn into drugs.
It's not easy to grow these cells, which start out in tiny vials of about a million apiece. Their surrounding liquid has to be at the right temperature and acidity, and their caretakers must correctly supplement them with nutrients and clean their waste. "The cells get the red carpet treatment," Eich said.
After six to eight weeks of growth, the antibodies are harvested and put through a rigorous purification process. A 6,000-liter batch will get concentrated down to 200 liters or less.
All of Amgen's products -- branded drugs and biosimilars, are made the same way. Yet making biosimilars is, in some ways, even harder than making their own drugs, Eich said in an interview at Amgen headquarters.
"With our drugs, we have our own goals," he said. "With biosimilars, you're using someone else's goalposts."
Eight More
The drugmaker is furthest along in testing a biosimilar of AbbVie's best-selling Humira, which brought in $13 billion last year. Amgen's best-selling drug Enbrel, with $4.7 billion in sales, is a non-biosimilar competitor.
Amgen is also working on eight other experimental biosimilars. The company expects about $3 billion in peak sales from biosimilar drugs, Eich said.
"Wall Street probably isn't giving sufficient credit yet for it because it's relatively far out for investors," Yee said. The drugs Amgen is targeting with its own biosimilar versions total about $45 billion in sales, he said.
Many hurdles remain. The Food and Drug Administration is still deciding how to name the drugs and how biosimilar drugmakers can prove their products can be interchanged with name brands automatically at the pharmacy counter. Both policies could affect whether doctors and patients trust biosimilars and will use them.
Still, Amgen views biosimilars as a natural next step for the industry.
"The more that we looked at it and thought about the complexities and challenge, the more attractive the opportunity became to us," Eich said.
Before it's here, it's on the Bloomberg Terminal.
LEARN MORE