BlackRock Plays China, India Growth Story Through Corporate Debt
Lilian Karunungan and Lyubov Pronina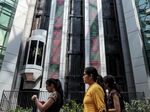 BlackRock Inc. is boosting holdings of Indian and Chinese corporate debt, betting that falling oil costs and government policy changes will spur growth in Asia's two biggest developing economies.
The Asian credit team of the world's largest asset manager is bullish on the region's dollar-denominated notes because their valuations are attractive versus the U.S. and Europe, according to Neeraj Seth, the head of the unit. Asian corporate bonds yield 302 basis points more than Treasuries, compared with spreads of 130 for companies in the U.S. and 89 for Europe, JPMorgan Chase & Co. and Bank of America Merrill Lynch indexes show.
"Asian credit is very well placed for 2015," Seth, who co-manages Asia's best-performing bond fund, said in an interview in London on March 6. "I am a strong believer that in China, India and to some extent Indonesia, you will continue to see reforms in the coming years, which are very important for unlocking long-term growth rates."
The 46 percent plunge in oil prices in the past 12 months has improved trade balances across most of Asia, making the region less vulnerable to capital outflows as the U.S. prepares to raise interest rates. In contrast, political and corporate scandals have sapped investor confidence in Latin America and the conflict in Ukraine fueled a cash exodus from parts of developing Europe.
BlackRock's $955 million Asian Tiger Bond Fund, managed by Seth and Joel Kim in Singapore, returned 9.4 percent in the past year, exceeding the 7.6 percent on the benchmark index it follows, data compiled by Bloomberg show.
Underweight Malaysia
Seth's team is underweight Malaysia as the oil-exporting nation's trade and fiscal balances will face some deterioration amid the drop in crude. BlackRock oversees $4.65 trillion in assets globally.
To fund its purchases of Indian and Chinese debt, the asset manager reduced holdings in South Korea and the Philippines, Seth said. He also likes global bonds issued by Indonesian state companies.
Indian Prime Minister Narendra Modi scrapped controls on diesel prices, raised natural-gas tariffs and allowed more foreign investment in industries such as defense since taking the reins of Asia's third-largest economy in May. His government stuck to its target of narrowing the fiscal deficit to a seven-year low in the 12 months through this March.
Chinese policy makers are trying to balance the need to cushion an economic slowdown with monetary and fiscal stimulus. The nation is loosening control of its currency and financial markets to lure foreign investment and increase global use of the yuan.
'Hard Landing'
"I don't really expect to see a hard landing or an abrupt slowdown in the near term in China," Seth said. "Policy makers are trying to create a gliding path for that slowdown. The government does have the means and resources to actually manage the slowdown."
China, which reduced borrowing costs twice since October, has reported record trade surpluses for the last two months. The Reserve Bank of India unexpectedly cut benchmark interest rates this month for a second time in 2015 as cheaper oil imports pared the trade deficit to an 11-month low in January and helped curb inflation. Bank Indonesia eased policy in a surprise move on Feb. 17.
Seth said he is also overweight India's rupee, which has risen 0.5 percent against the dollar this year as global funds added $6.1 billion to their holdings of the nation's corporate and sovereign bonds. In 2014, they bought a record $26 billion of rupee-denominated notes.
India's domestic bond market and the currency should benefit as the central bank may cut its key repurchase rate by another 50 basis points this year, Seth said.
Before it's here, it's on the Bloomberg Terminal.
LEARN MORE