Australia's UniSuper Wants Indian Stocks as Modi Reforms
Narayanan Somasundaram and Adam Haigh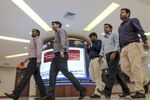 UniSuper Management Pty, the third-best performing Australian pension fund in the past 10 years, is considering investing in India as Prime Minister Narendra Modi pushes sweeping economic reforms to lure investors.
Unisuper, which manages more than A$50 billion ($39 billion), may invest as much as A$200 million in Indian equities through a fund manager or exchange-traded funds, Chief Investment Officer John Pearce said in an interview in Sydney.
"India has the potential to be the next big thing," he said. "The reform agenda in the country, onus on growth, policy certainty for businesses will aid sentiment for Indian equities."
Unisuper's plan to invest in the south Asian nation ties in with its move to increase Asian holdings as slowing earnings in the developed world bring back the attention to emerging countries. India's stocks and currency are among the world's best performers on bets that Prime Minister Narendra Modi will shift spending from subsidies to infrastructure to overhaul an economy now starting to take off as China slows.
Modinomics
The country's economy is projected to expand as much as 8.5 percent in the next fiscal year, according to the latest Finance Ministry estimates, the fastest pace among the world's biggest emerging markets. Modi's nine-month-old administration has also vowed to make it easier to do business by cutting red tape and simplifying taxes.
India's benchmark S&P BSE Sensex Index surged 30 percent last year compared with a 2.1 percent advance on the MSCI All Country World Index of global developed- and emerging-nation stocks. That advance has continued in 2015 with a 7.1 percent rise, compared with a less than 2 percent gain on the global measure.
Unisuper may also buy insurance on its equity holdings through stock options for the first time ever amid rising global stock prices, Pearce said. The pension manager has previously bought such protection for its currency positions, he said.
Global shares touched an all-time intraday high last month as record-low interest rates and falling bond yields lure investors into equities. The U.S. bull market, which is entering its sixth year with shares having gained more than 200 percent, is leaving some money managers with concerns.
Protecting Returns
A collar strategy can be used to hedge against large declines after a security posts substantial gains. To implement the trade, investors buy a protective put with an exercise price below the current stock level, financed by selling call options with a higher strike.
"It could be a put option or a collar or a put option on equities, bonds or even currencies to balance it out," Pearce said. "We are working out the process and timing to activate such an insurance."
UniSuper had an average rate of return of 8 percent in the 10 years to 2013, behind Commonwealth Bank Officers Superannuation Corporation Pty with 8.1 percent and BEST Superannuation Pty with 10.5 percent, according to the latest data from Australian Prudential Regulation Authority.
Australian pension funds managed A$1.93 trillion, the fourth-largest retirement savings pool in the world, as of Dec. 31, according to APRA data.
Before it's here, it's on the Bloomberg Terminal.
LEARN MORE