While Draghi Starts QE, German Stocks Remain a Favorite
Sofia Horta e Costa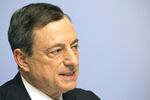 Bulls are betting that the best start to a year since 1975 for German stocks has more to go.
With the European Central Bank buying its first government bonds to shore up the region's economy, options traders are showing little concern that the DAX Index might decline. Implied volatility is at its cheapest relative to historical volatility in three years. In other words, hedging costs are cheap.
The DAX reached more than 20 records in two months, its valuation is at a five-year high, and yet Europe's favorite stock market is still luring investors. As economic expansion exceeds estimates and the lower euro boosts exports, Mainfirst Bank AG's Olgerd Eichler says even a 5 percent drop wouldn't faze him.
"There's no point worrying about a small correction," Eichler said from Frankfurt. "People continue to be behind the curve regarding economic growth in Europe. Stocks still have huge upside, and the particular interest in Germany makes sense. The DAX has plenty of businesses that are either very dependent on the economy, or huge beneficiaries of the lower euro."
Euro-area central banks bought German, Belgian, French, Italian and Spanish bonds on Monday, according to government-debt traders. The ECB is purchasing the securities as part of an asset-buying program amounting to 60 billion euros ($65 billion) a month. ECB President Mario Draghi signaled last week that the policy will choke off the threat of deflation.
The central bank has also increased its euro-area growth forecast to 1.5 percent for 2015 and projected the economy will accelerate through to 2017. Germany's gross domestic product will expand 1.5 percent this year.
Weaker Euro
Exporters set to benefit from a weaker euro have put Daimler AG, Volkswagen AG, BMW AG and Adidas AG among the half of DAX companies gaining at least 20 percent in 2015.
The index's implied volatility, a measure of options prices, fell to a 2012 low at the end of last month versus past swings, according to data compiled by Bloomberg on three-month contracts. The cost of DAX contracts has dropped 31 percent since a high in January.
A technical analysis signal shows the DAX rally is gaining momentum, with the relative strength index higher than 70 for most of the past two weeks. When it first reached that level in November, the index fell more than 4 percent in less than a month. At these prices, some investors might just prefer to wait before jumping in, according to Christoph Ohme at Deutsche Asset & Wealth Management.
Moderate Corrections
"After such a strong run, there could be a correction, and this consolidation could be healthy," Ohme said by phone from Frankfurt. "Although we would expect corrections to be moderate and manageable, there may be more attractive entry levels from here. In the long run, we're still positive."
The DAX added 0.3 percent to close at a fresh record on Monday, following eight consecutive weeks of gains.
Investors sent more than $1 billion to an exchange-traded fund tracking German stocks this year, with record inflows on Feb. 12. And they're not finished. A Bank of America Corp. survey last month found that 61 percent of fund managers intend to own more of the equities than represented in global benchmark indexes in the next year. That makes it the most-liked equity market in Europe.
"The big story in 2015 is the revival of Europe," said Teis Knuthsen, chief investment officer at Saxo Bank A/S's private-banking unit in Hellerup, Denmark. "It makes sense for Germany to outperform in this environment. It's the market leader and the strongest economy, and it was there that the economic turnaround was more obvious to begin with."
Before it's here, it's on the Bloomberg Terminal.
LEARN MORE