Apple Watch Hands-On
It fits beautifully on your wrist, but takes some getting used to
By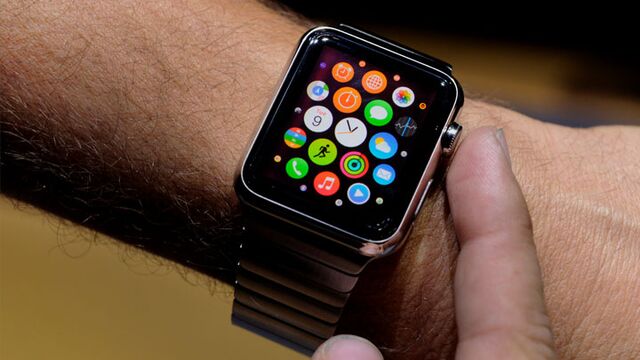 The Apple Watch is finally here. Again. Only this time, it actually works.
Details were scant when Apple first unveiled its much-awaited watch at a media event in September 2014, featuring nothing more than a demo loop of what software might do. On Monday, Apple answered most of the big questions, and we actually got to take an Apple Watch for a spin.
The two biggest blanks going into the morning presentation were price and battery life. We got answers to both. The Apple Watch Sport ranges from $349 to $399, the Apple Watch from $549 to $1,099, and the 18k gold Apple Watch Edition starts at $10,000. Exact pricing varies, based on case size (38mm or 42mm) and strap choice.

Apple is saying that the watch will provide a "full day" of use on one charge, approximately 18 hours. It's unclear what that means and how long a charge will last if you're addicted to Instagram or handle a lot of e-mail. It's likely to be similar to what you can get from the Moto 360 and a little less than what the Samsung Galaxy Gear S offers. Charging is done inductively through a magnetic pad, and the Apple Watch Edition houses the pad in a leather box meant to mimic the boxes of high-end luxury watches.  
A major criticism of the Apple Watch is that while it has Wi-Fi and Bluetooth, it does not have GPS or cellular connectivity, meaning it needs to be tethered to an iPhone to access the internet, map your run, or notify you of e-mail. 

There are more varieties of Apple Watch than of any Apple product offered before. As if three product ranges and two sizes weren't enough, each range also has two finish options, and there are dozens of style and color combinations of straps and bracelets. Apple smartly understands that while most people are all right carrying the same phone as their colleagues and friends, walking into a room wearing the same watch as everyone else feels a little strange. However, even if having several varieties is an understandable decision for the marketplace, it still doesn't feel very Apple. 

The smaller 38mm size fits better on my small wrist, but you do get about 20 percent less screen than with the 42mm, and I think that's real estate I'd quickly come to miss. The fluroelastomer bands (you'll get chastised referring to them as rubber near any Apple employee) are flexible and comfortable, but a little fiddly to put on, while the leather and link bracelets feel very much like watch bands you're already used to. The Milanese mesh, in particular, feels and looks incredible, and it fits your wrist perfectly by using magnets instead of sized clasp holes.

Since the first Apple Watch announcement in September 2014, Apple has been touting the digital crown as a groundbreaking interface that will set the Apple Watch apart from its competition. So how is it in practice? On first use, the device felt a little confusing and clumsy. Sometimes it seemed to do one thing; at other times, just the opposite. The display doesn't use the familiar pinch-to-zoom gesture used on the iPhone and it seems like the interplay between tapping, swiping, and turning the crown will take some getting used to.

We thought we might get the full scoop on Monday from Apple on what the final release will look like, but details such as on-board storage capacity and exactly how you'll manage and purchase apps via your iPhone are still missing. Sure, we got to go hands-on with a working watch, but things will surely continue to shift and change before the watches start popping up on wrists.
The Apple Watch will be sold at Apple stores, and special demonstration cases will arrive in Apple stores on April 10, the same day pre-orders begin. Watches will begin being delivered just a few weeks later, on April 24.
For more on the Apple Watch event, read this next: 
Before it's here, it's on the Bloomberg Terminal.
LEARN MORE