Apple Says New Smartwatch Will Go 18 Hours on Battery Power
Tim Higgins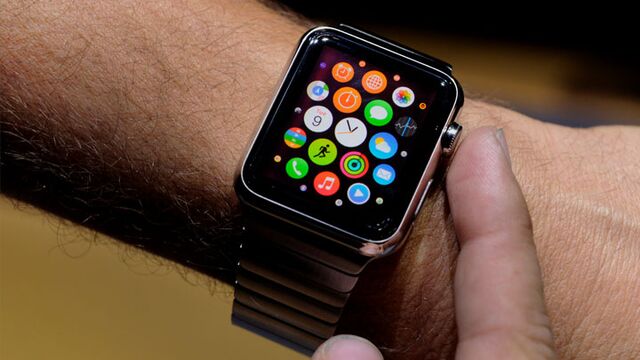 The real question about the new Apple Watch: How much time will you get out of it before the battery dies?
Apple Inc. said users of the new smartwatch, which begins shipping next month, will be able to go 18 hours under typical use before charging the battery. Chief Executive Officer Tim Cook said on Monday that the watch will be able to run all day before charging each night. The question of an Apple's devices ability to hold a charge is a routine following an introduction.
Battery life is a tricky thing that has a lot to do with usage. The 18-hour estimate was based on such activities as checking the time, receiving notifications, using apps and doing a 30-minute workout.
Apple on its website notes that everyone uses a device differently so it tested other scenarios as well. In an audio-playback test, playing music from an iPhone through Bluetooth, battery life was 6.5 hours. Spend all your time talking using the Apple Watch, and the battery dies in three hours.
The ranges are similar to how other devices work. Apple has said the iPhone 6 should stay charged for as much as 14 hours of talk time or 10 hours of surfing the Internet over a cellular network. Users, though, see different results in the real world.
'Decent Benchmark'
Samsung Electronics Co. says its Gear S smartwatch gets about one to two days of typical use out its battery, while Pebble, which doesn't have power-sucking apps or as vibrant a screen as its rivals have, claims to last five to seven days.
Website 9to5mac had said that the Apple Watch may operate for five hours of heavy use while it will go about a day with a mixture of active and passive use.
"A full day is a decent benchmark for version one," Ben Bajarin, an analyst at Creative Strategies Inc., said. "What you're dealing with is that most smartwatches today last maybe a day, nothing gets better than that."
Battery life was one of the major concerns when Apple brought out the first iPhone in 2007. Apple shares rose on the day in 2007 when Steve Jobs announced ahead of the iPhone's debut that it would get eight hours of talk time, three more than previously planned. Ultimately, the phone received some criticism over its battery life, something the company worked to improve over time.
The next generation of the watch will probably have better battery life as well, according to analysts such as Jim Suva of Citi.
"Battery life is very important," he said. "But version one is usually never as good as version two."
Before it's here, it's on the Bloomberg Terminal.
LEARN MORE