Apple Unveils 12-Inch MacBook With Thinner, Lighter Design
Ian King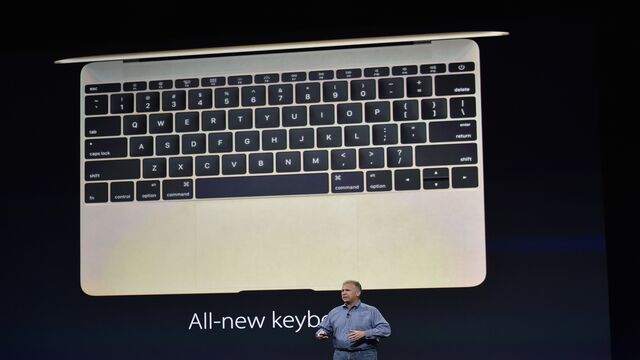 Apple Inc. said its thinnest and lightest laptop just got skinnier, introducing a new MacBook with technologies that cram more features into a smaller case.
Apple said the new laptop will weigh 2 pounds (900 grams) and measure 13.1 millimeters in its slimmest dimension. It will have a 12-inch display, the company said Monday.
"We continue to innovate, we continue to lead the industry," Chief Executive Officer Tim Cook said at a company event in San Francisco. "The definition of portability has changed led by iPhone and iPad. We challenged ourselves to reinvent the notebook."
While the MacBook Air has set the standard for thin notebooks since Steve Jobs pulled it out of an envelope on stage in 2008, the personal-computer industry has rushed to catch up. They're all trying to roll out devices that can win over consumers who've increasingly switched to smartphones and tablets to get online. Apple's smallest laptop is now up against a variety of devices such as Samsung Electronics Co.'s Series 9 and Lenovo Group Ltd.'s Yoga notebooks.
Cook said that the Mac computer lineup has outgrown the rest of the industry, which shrank last year while Mac sales increased 20 percent.
Apple's Phil Schiller, head of marketing, detailed a number of new features inside the MacBook. The company has reworked the engineering behind its keyboard, hinge, logic board, touchpad and battery shape, to cram more capabilities into the smaller enclosure.
New Features
The new MacBook, which will be offered in gold, silver and gray, will go on sale beginning at $1,299 in its most basic configuration and start shipping April 10.
In terms of chip performance, the laptop fits in at the bottom end of Apple's range. The company chose Intel Corp.'s Core M processor to drive it. That component, announced last year, is specifically designed for ultra-thin devices that can't use fans to cool more powerful chips.
For the existing MacBook lineup, Apple is also adding other features, including new more energy-efficient and powerful Intel processors.
Thinner and lighter notebooks are the most active part of the PC industry, which has struggled to grab consumers' attention amid the shift to mobile devices. Last year 4.8 million ultra-slim notebooks were sold, more than double 2013's total, according to IDC Corp. The market researcher expects that to reach 6.2 million units this year.
Before it's here, it's on the Bloomberg Terminal.
LEARN MORE