$1.20 for Office Lunches as Errand Apps Bloom in India
Adi Narayan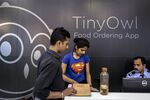 When Harsh Vardhan Mandad and his Mumbai flat-mates brainstormed ideas for the next killer app, they fueled the sessions with late-night deliveries of local fare. The curry rice and spicy wraps inspired their big breakthrough.
They started Tiny Owl, a smartphone application that helps hungry city-dwellers scour nearby eateries for deliveries. The service now handles 2,000 orders each day and has caught the interest of venture funds including Sequoia Capital, an early backer of technology giants such as Apple Inc. and Oracle Corp.
India is becoming the land of the errand app. A growing number of startups cater to people who want to avoid the poor roads and polluted air, and can afford to do so because of the plentiful cheap labor. Almost anyone can use an app to have someone pick up groceries, drop off a letter at the post office or prepare a lunch that runs 75 rupees ($1.20) with delivery.
"People today want to do as much as possible with their phones," said TinyOwl co-founder Mandad, who graduated from Mumbai's Indian Institute of Technology in 2012. "It is a friction just to go out -- there's the heavy traffic, pollution and waiting involved for a cab."
The startups are carving out niches by serving certain neighborhoods or parts of cities, realizing the "hyper-local" strategy long envisioned in more developed countries including the U.S. Larger e-commerce companies such as Flipkart and Snapdeal dominate online sales of more traditional goods, including books, apparel and electronic goods.
Painful Driving
Need your bike serviced, your dry-cleaning picked up or even your own errand boy for a few hours? There are services for all that. There are also at least a dozen startups focused on food and grocery delivery, with angel investors and venture capital firms lining up to invest.
With traffic snarls in big Indian cities an everyday occurrence, it's common to find vehicles crawling along at less than 5 kilometers per hour on some Delhi roads, almost as slow as bullock carts, government data shows. Air quality is poor, with several cities faring worse than even Beijing.
All that has translated to fewer visitors in stores. People can get everything from apparel to groceries at the click of a button, said consultant Ashok Deenadayalu, who advises retailers on strategy and store management.
"Earlier it used to be a pastime to go to the malls on a weekend," Deenadayalu, who's had a 24-year career at some of the nation's largest chains such as Reliance Retail, Bharti Wal Mart Pvt. and Metro AG. "Now it's just a torture."
Funding
Mandad's Tiny Owl raised $16 million from investors including Matrix Partners and Sequoia Capital in its second funding round in February, while grocer BigBasket.com got $32 million from private equity firms including Helion Venture Partners, the DealCurry.com financial blog reported last September. Meanwhile, European hedge funds and Singapore's Temasek Holdings Pte have also taken stakes in the bigger e-commerce companies.
Large fund houses have teams spread out across major Indian cities and that has helped them identify and invest in new ventures such as those in hyperlocal e-commerce, Venugopal Sathyanarayana, vice president at early-stage investor Orios Venture Partners, said in an e-mail today.
"These models have worked very well in the U.S. and hence the assumption is that they will work well in India too," he said.
Size of Market
The size of the potential market in India makes it attractive for entrepreneurs to build businesses that are near-replicas of existing services in the West, and tweak them for Indian realities. Tiny Owl's model is similar to that of Chicago-based GrubHub Inc., while Yumist founder Alok Jain compares his service to Rocket Internet AG's EatFirst service that offers 7 pound ($10.60) lunches of coq au vin and other dishes to Londoners.
"In India, street food isn't hygienic and getting proper meals in the office is a huge pain," said Jain, who used to work at Yelp Inc.'s Indian competitor Zomato.com before starting his own venture. "We're not in this to run a restaurant."
The proliferation of food ordering apps can be a double edged sword for restaurants, Saloni Nangia, president at consultant Technopak Advisors said. It may lead to more business as eateries tap wider audiences, but negative reviews can easily dissuade walk-ins or online patrons.
Modern Twist
These companies put a modern, tech-enabled spin on a traditional food delivery service that has existed for more than a century in some Indian cities. For instance, Mumbai delivery men, known as dabba-walas, pick up home-cooked lunch boxes from about 130,000 households each morning, deliver them to the respective office workers by the afternoon, and then carry the empty containers back to the homes.
Each lunch box is picked up by a man in a bicycle or push cart, loaded on to local trains and then onward to buses or more push carts for the final hop to the recipient's office. Documentary films and a Harvard Business School case study have been devoted to this Mumbai institution, which traces its roots to 1890 when India was still a part of the British empire.
Yumist's service adds a twist to the tradition. With the press of a button in the app, customers can choose between two lunch options each morning and can opt out any day. Delivery men are typically in their 20s, wear uniforms and use their Android phones to manage orders.
Errand-boys
Another startup called GetMyPeon found its niche helping time strapped corporate executives deposit checks or pick up flower bouquets. The Mumbai-based company provides a concierge service that offers English-speaking, Android phone-totting, errand-boys on demand, who undertake all kinds of tasks that involve going somewhere within the city.
"People come to us with all kinds of requests; someone wants a bill paid, another left his iPhone charger at a friend's party and wants us to pick it up," said Bharat Ahirwar, who started the service in 2012 and now has about 2,000 customers in the city.
These services aren't without their challenges, and some pay little attention to customer service, said Shrutin Shetty, founder of A-Team Business Consulting which advises startups on growth strategy.
"Companies need to realize that a beautiful app or interface is not enough," Shetty said. "It's the back end that matters."
They should have sufficient employees and train them well to minimize consumer complaints and ensure punctual delivery, he said.
For Mumbai resident Pooja Dadlani, the profusion of smartphone apps has helped her outsource time-consuming errands and focus more on her consulting business.
"I use apps for everything; it's just so convenient," said Dadlani, a public relations consultant for luxury brands. "I'd love for more such apps to help outsource more of my menial work."
Before it's here, it's on the Bloomberg Terminal.
LEARN MORE