Yale Loses to Set Up One-Game Basketball Playoff With Harvard
Eben Novy-Williams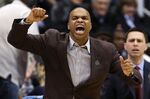 Yale University suffered a last-second upset to Dartmouth College in its final conference game to fall into a tie with Harvard University atop the Ivy League standings.
Gabas Maldunas made a layup off an inbounds pass with 0.5 seconds remaining in Hanover, New Hampshire, to give Dartmouth a 59-58 victory and create the two-way tie.
Harvard won earlier in the evening 72-62 at Lavietes Pavilion in Cambridge, Massachusetts. There will be a one-game playoff next Saturday in Philadelphia to determine who receives the conference's berth in the National Collegiate Athletic Association tournament. There have been eight playoffs in Ivy League history, most recently in 2011 when Princeton beat Harvard.
Yale's most recent NCAA tournament appearance was in 1962, when they lost 92-82 to Wake Forest. Yale is 0-4 all-time in the NCAA tournament, with two of those losses coming in 1949, when the format wasn't single-elimination.
Under coach Tommy Amaker, the Crimson have won at least a share of the past five Ivy League titles and represented the conference in each of the past three NCAA tournaments.
Last year, Harvard won the title by four games over Yale with a 13-1 record in league play. In the NCAA tournament it upset fifth-seeded Cincinnati to become the first Ivy League team since Princeton in 1983-84 to win games in back-to-back NCAA tournaments.
Before it's here, it's on the Bloomberg Terminal.
LEARN MORE