Hillary Clinton Changes Twitter Photo That Got Second Life in E-mail Controversy
Her new profile photo aims "to raise awareness on how far we've come in reaching equal rights for women & girls worldwide."
By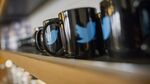 Former Secretary of State Hillary Clinton announced Sunday she had changed her longtime Twitter profile photo "to raise awareness on how far we've come in reaching equal rights for women & girls worldwide."
In doing so, she downplayed a photo that once helped spark the "Texts from Hillary" meme and, more recently, came to symbolize the mystery behind the private e-mail service she used exclusively while serving as President Obama's top diplomat.
The image showed Clinton sitting at a desk inside a C-17 military aircraft, wearing sunglasses and reading what appears to be a BlackBerry. Reuters' Kevin Lamarque and Time magazine's Diana Walker shot similar versions of the photo in 2011 en route to Libya. The images went viral, highlighting Clinton's supposed tech-savvy and in-charge sangfroid. In 2013, she tagged the meme's creators appreciatively in her very first Twitter post.

Now, under scrutiny about her nongovernmental e-mail account, she has moved the C-17 image to the header image of her Twitter profile, which is generally less prominent on the social-media platform.
The change comes the same day Representative Trey Gowdy, a South Carolina Republican leading a House investigation into the 2012 Benghazi attack, suggested the photo was a reason to be skeptical that Clinton really has turned over all relevant information to the State Department to be passed on to his committee.
"There are gaps of months and months and months," Gowdy said on CBS's Face the Nation. "If you think to that iconic picture of her on a C-17 flying to Libya, she has sunglasses on, and she has her hand-held device in her hand. We have no e-mails from that day. In fact, we have no e-mails from that trip."
Clinton representatives have denied wrongdoing in her e-mail practices and she said last week, on Twitter, that she has asked the State Department to make her correspondence public.