China's February Exports Rise 48.9%
Bloomberg News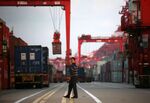 A strengthening U.S. recovery is helping underpin China's outlook as Asia's biggest economy seeks to cut excess capacity and transition to reliance on domestic consumption rather than debt-fueled infrastructure spending.
China's exports surged more than 48 percent in February from a year earlier, exceeding the median analyst forecast for a 14 percent jump, led by sales to the U.S. and Europe. While that number was skewed by distortions from the timing of the Lunar New Year holiday, the combined figure with January still showed overseas sales rose 15 percent. The government is targeting a 6 percent gain in trade for 2015.
Strength in external demand may help Premier Li Keqiang achieve the economic growth target of about 7 percent for 2015 he announced in his work report to the annual National People's Congress session last week. Still, weaker import numbers reflected headwinds facing the world's second-biggest economy.
"Chinese exports are humming along, which is a relief as the domestic investment momentum is struggling," said Yao Wei, a Paris-based China economist at Societe Generale SA.
The trade surplus for February was $60.6 billion, above January's record of $60 billion, the customs administration said in Beijing Sunday. Exports to the U.S. in the first two months jumped 21 percent in yuan terms. Shipments to Association of Southeast Asian Nations rose 38 percent.
China's exports will be stronger in 2015 than in 2014 thanks to the U.S. economic recovery, while imports may be weaker on falling import prices, Wang Tao, the chief China economist for UBS Group AG, said in a conference call on Monday. She said China's exports may rise 7 percent to 8 percent this year.
U.S. Recovery
Labor data last week showed U.S. employers added more jobs than forecast in February, with the jobless rate falling to the lowest since 2008. Shipments from China make up about 20 percent of U.S. imports, according to data compiled by Bloomberg.
"The U.S. is the single most important propeller, and Chinese exports basically follow the U.S. economy," said Larry Hu, head of China economics at Macquarie Securities Ltd. in Hong Kong.
Hu estimates that a 3 percent expansion in the American economy will add an additional 0.5 to 1 percentage point to China's growth by boosting exports by 8 to 9 percent.
The 20.5 percent drop in China's imports in February from a year earlier was sharper than the median estimate of a 10 percent decline, signaling continued weakness in internal demand as well as the fall in commodity prices.
Holiday Effect
The import and export readings were probably skewed by the week-long Lunar New Year holidays, which fell later in 2015. That's because exporters made their concentrated shipments in the first half of February, before the holiday began, whereas in 2014 they did so in January, said Shen Jianguang, chief Asia economist at Mizuho Securities Asia Ltd. in Hong Kong.
For imports, there was little incentive for manufacturers to stock up on raw materials before the extended holiday, Shen said, while "falling imported commodity prices did not help China's lackluster domestic demand."
Even after the seasonal effects, the export numbers demonstrate "the resilience of China's competitiveness" and should mean currency depreciation against the dollar will be limited, Mizuho's Shen said.
Shen Danyang, spokesman for China's Ministry of Commerce, said it's hard for the nation to sustain the rapid expansion pace of exports as in past years because its share in many markets has matured.
"Foreign trade is still a very important engine for China's growth," Shen said in comments published on the government's website Monday. "The foreign trade growth rate can't slow too much."
— With assistance by Xiaoqing Pi
Before it's here, it's on the Bloomberg Terminal.
LEARN MORE