Indonesian Court to Hold Bali 9 Duo Hearing, Lawyer Says
Narayanan Somasundaram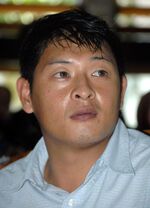 An Indonesian court will hear an appeal Thursday by two Australians facing execution for drug smuggling, a lawyer for the duo said.
Myuran Sukumaran and Andrew Chan were convicted as the ringleaders of a group of nine Australians arrested in 2005 for trying to smuggle heroin out of the Indonesian island of Bali. They are appealing dismissal of their application challenging Indonesian President Joko Widodo's refusal to grant them clemency, Michael O'Connell, their Melbourne-based lawyer, said by phone.
The hearing comes after Indonesia transferred the two to an island prison where they will face a firing squad. Australian Prime Minister Tony Abbott has said executions would be "beneath" Indonesia and against its best interests. The stand-off is the most serious since 2013 when Abbott refused to apologize amid reports Australia spied on Indonesia's leadership.
"The simple point to make is that we have been asking all along that the Indonesian attorney general respect the legal processes," O'Connell said. The move to allow the hearing "suggests that's what they intend to do and we are very pleased with that."
Chan and Sukumaran's lawyers will argue Widodo, known as Jokowi, did not give "proper and genuine" consideration to the clemency application, he said.
No Mercy
Widodo has repeatedly said he won't show mercy to convicted drug smugglers, and his government rejected Australia's proposal for a prisoner swap. Abbott said Friday he had sought a phone call with Widodo to plead the pair's case. Widodo is yet to agree to the call, the Sydney Morning Herald reported.
Australia summoned the Indonesian ambassador to complain about the treatment of Sukumaran and Chan during their March 5 transfer from Bali's Kerobokan prison to Nusa Kambangan island in Central Java. Photos emerged of an Indonesian police chief smiling as he posed with the grim-faced pair.
Amnesty International has said the executions would be a setback to Indonesia's promise of improving human rights.
A majority of Australians oppose the executions, according to a survey. The poll conducted Feb. 13-15 by the Lowy Institute showed 62 percent of Australian adults thought they shouldn't proceed. The telephone survey of 1,211 people had a margin of error of plus or minus 2.8 percentage points.
Positive sentiment in Australia has risen for Sukumaran and Chan amid media reports -- backed by Abbott -- that they have been reformed.
The last Australian to be executed by a foreign government was Van Tuong Nguyen, who was hanged in Singapore in 2005 for drug smuggling. Australia has banned the death penalty since the mid-1980s, with its last execution occurring in 1967.
Before it's here, it's on the Bloomberg Terminal.
LEARN MORE