Why the Strong Jobs Report May Have Caused the Stock Market to Tumble
It looks like the market is pricing in tighter monetary policy
by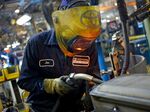 Before we begin, let's get something out of the way: You never really know what's causing the market to move in any given way. At best you can make some educated guesses about the factors that are driving the moves.
Still, it's interesting today that after a very strong jobs report the stock market is tumbling and interest rates are spiking.
So what might be going on? Why would the stock market fall after good news?
One of the biggest questions right now in markets and economics is: When will the Fed finally raise interest rates? Rates have been near zero since the financial crisis, but it looks like we're getting closer to liftoff. Some people think the Fed will raise rates in June. Others think the first hike will come later in the year. And some don't think we'll get a rate hike until 2016. Ultimately, the Fed will hike when it feels confident that the economy is on a strong footing and that inflation is likely to trend higher.
The bottom line is that today's strong jobs report increases the pressure on the Fed to hike sooner.
This tweet from Matthew Boesler shows how the part of the market that is based around future Fed moves reacted to the data.
It's widely believed that the stock market has been the beneficiary of an easy-money Federal Reserve, which has held rates low for an extraordinary length of time. Today's report seems to have sparked a shift in thinking and a belief that the days of low rates are coming to a close.
That's probably why good news for the economy is pushing stocks down.
Before it's here, it's on the Bloomberg Terminal.
LEARN MORE