U.S. Consumer Credit Rises at Slowest Pace Since November 2013
Shobhana Chandra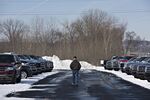 Consumer borrowing in the U.S. increased in January at the slowest pace since November 2013 as Americans cut back on their credit-card use.
The $11.6 billion advance followed a $17.9 billion gain in the previous month that was bigger than previously estimated, Federal Reserve figures showed Friday in Washington. Non-revolving credit, which includes loans for education and motor-vehicle purchases, accelerated.
Households may become more willing to borrow and take advantage of low interest rates once they see faster wage growth on the heels of an improving labor market. Employers added 295,000 workers to payrolls last month, while hourly earnings rose less than forecast, a report showed earlier Friday.
The median forecast of 34 economists surveyed by Bloomberg called for an increase of $14.8 billion in consumer credit after an initially reported $14.8 billion December gain.
The report doesn't track debt secured by real estate, such as mortgages or home-equity lines of credit.
Non-revolving debt, such as that for college tuition and the purchase of vehicles and mobile homes, climbed $12.7 billion in January, the report showed.
Revolving debt, including credit cards, fell $1.2 billion following a $6.2 billion increase.
Before it's here, it's on the Bloomberg Terminal.
LEARN MORE