Steel Magnate Mittal Profits From Problem Child as Parent Flops
Thomas Biesheuvel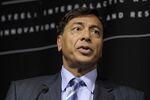 Billionaire Lakshmi Mittal is making a bundle from steel. Unfortunately for him, it's the wrong kind of steel.
Mittal owns about 40 percent of both the stainless steelmaker Aperam and ArcelorMittal, which produces carbon steel. While the value of Aperam has almost doubled in the past year to 2.47 billion euros ($2.73 billion), ArcelorMittal has seen a 14 percent decline in its value to 16 billion euros.
While Aperam has been a pleasant surprise since its spinoff from ArcelorMittal in 2011, Mittal's first priority is to stop the bleeding at the larger company that drives the Indian-born entrepreneur's $14 billion fortune. His efforts to do that have angered some European governments, leaving ArcelorMittal with significant hurdles to overcome.
"When Mittal spun out Aperam, the stainless sector was perceived as having even greater challenges than the carbon steel space," said Seth Rosenfeld, an analyst at Jefferies International Ltd. in London. "In the last two years, you've seen the stainless steel sector emerge as having a very unique capacity to restructure relative to the carbon steel industry."
Mittal, who lives in London and owns 34 percent of Queens Park Rangers soccer team, separated Aperam from Luxembourg-based ArcelorMittal after saying that years of attempts to consolidate the stainless industry had failed.
In 2012, Finland's Outokumpu Oyj bought rival ThyssenKrupp AG's stainless-steel business, ushering in a round of plant closures, greater production discipline and higher prices. That leaves Europe's market for stainless steel, used to make cutlery, sinks and razor blades, dominated by four players, with Outokumpu having a 44 percent share and Aperam ranked second with 21 percent.
Elusive Formula
That formula for success is proving beyond Mittal's reach in the wider European steel industry. Too many companies and plants produce too much carbon steel, used in everything from construction to cars, undercutting prices and crimping profits.
ArcelorMittal dwarfs Aperam with annual sales of almost $80 billion last year compared with $5.5 billion at the stainless-steel company. Still, the carbon-steel giant reported a net loss of $1.09 billion against a profit of $95 million for its smaller offspring.
ArcelorMittal said there was a "considerable improvement" last year in its steel business, which saw earnings before interest, taxes, depreciation and amortization rise 27 percent to $6.1 billion, driven largely by improved demand in Europe and North America. The company continues to face the challenge of increasing imports from China, it said.
Optimizing Production
"The action that we have taken in recent years in terms of optimizing our production base in Europe was designed to run our own assets as efficiently and profitably as possible," ArcelorMittal said in an e-mailed response to questions. "This has delivered an improved performance, with ArcelorMittal Europe reporting Ebitda of $2.3 billion in 2014, compared to $1.6 billion in 2013."
Stainless steel is made in electric-arc furnaces where chromium and nickel is added to the iron ore. The majority of Europe's carbon steel is made in a blast furnace where iron ore is mixed with coke and limestone.
While Mittal controls 25 percent of Europe's carbon-steel market -- with a 6 percent global share -- his moves to shutter plants in Belgium and France led to riots, a kidnapping and threats of nationalization.
President Francois Hollande summoned Mittal for a meeting in 2012 as the billionaire sought to close a plant in Florange, with French lawmakers threatening to nationalize the company's assets. In 2011, Belgian steelworkers held ArcelorMittal executives hostage in their offices for 48 hours as they battled to stop the shutdown of blast furnaces in Liege.
Italian Plant
The company said last month it remained interested in buying Italy's Ilva steel plant, even after cutting 80,000 jobs globally over the past five years. Europe's biggest steel mill is renowned for selling discounted steel and is currently controlled by the Italian government after it was accused of failing to contain toxic emissions in 2013.
While ArcelorMittal is the world's biggest producer and more than twice the size of its nearest rival in Europe, that isn't proving enough to change behavior in the market, said Jefferies analyst Rosenfeld.
"In an environment of low consolidation, the carbon steelmakers are simply not incentivized to act rationally," he said. "Steelmakers are concerned that if they shut down capacity, they will not structurally improve pricing power and they will simply be left with less steel."
Stainless Usage
While Mittal struggles in carbon steel, his rivals have done much of his work for him in the stainless industry. Outokumpu's 2.7 billion-euro purchase of ThyssenKrupp's Inoxum unit in 2012 led to the Finish producer closing one plant in Germany and committing to shutter another in this year. ThyssenKrupp has halved production at its remaining plant in Italy. Jefferies predicts that stainless-steel plant capacity usage should rise from about 54 percent in 2009 to 81 percent in 2017.
The industry transformation is paying off. While ArcelorMittal's profit per ton of steel has dropped 38 percent since 2011, Aperam's has gained 48 percent. This year Aperam forecasts further earnings gains, while ArcelorMittal expects a decline as a collapse in iron-ore prices undermines a rebound in steel demand.
Before it's here, it's on the Bloomberg Terminal.
LEARN MORE