State Department Warned Against Using Private E-Mails
Mark Drajem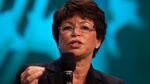 The Obama administration distanced itself Friday from Hillary Clinton's use of a private e-mail address, as new evidence emerged that the State Department had advised employees against the practice during her time as secretary.
"The president has a very firm policy that e-mails should be kept on government systems," Valerie Jarrett, a senior adviser of President Barack Obama, said in an interview with Bloomberg's Stephanie Ruhle and Erik Schatzker. "We believe in transparency and we believe public records, that they need to be captured."
The State Department sought to discourage employees from using private e-mail for government business at least three times during her tenure. In a cable to embassies in 2011 and two sections of its manual for employees that was updated 2005 and 2011, the department told employees to limit their use of private e-mail accounts. A watchdog report from August 2012 criticized the ambassador to Kenya for using a non-government e-mail account.
Clinton, who was secretary of state from 2009 until February 2013 and is preparing to begin a presidential campaign, used a private e-mail account that was routed through a server at her suburban New York home. She says she turned over 55,000 pages of documents from the trove to the State Department in response to a request the agency sent to all former secretaries of state.
Practice Permitted
Clinton asked the department to release those messages on Wednesday, and a spokesman has defended her practice.
"Both the letter and spirit of the rules permitted State Department officials to use non-government e-mail, as long as appropriate records were preserved," Clinton spokesman Nick Merrill said this week.
A State Department spokeswoman Friday said the various policy documents and cable were meant as advice, and weren't binding legal requirements.
"This cable is totally about guidance and best practices," spokeswoman Marie Harf said.
In an update to the Foreign Affairs Manual, dated Nov. 14, 2011, the department outlined procedures for archiving e-mails that should be part of permanent records. The policy says users must preserve on government servers e-mails "where required by legal mandates (e.g., e-mails relevant to actual or anticipated litigation or in response to pending requests from Congress or under the Freedom of Information Act.)"
Both congressional investigators and the conservative advocacy group Judicial Watch had sought Clinton's e-mails regarding the attacks on the U.S. mission in Benghazi, Libya.
Government Mandates
Government mandates require Clinton to preserve her records for posterity, and that should have been done earlier, said Jason R. Baron, a lawyer at Drinker Biddle, former director of litigation at the National Archives and Records Administration, or NARA.
"By failing to comply with a reasonable reading of NARA requirements to timely transfer records to the agency, they have created an issue as to how exactly they went about deciding what is or is not a record," Baron said. "Clinton and her aides have now effectively decided what are and are not government records."
Separately, a policy detailing the handling of sensitive but unclassified materials says, "It is the Department's general policy that normal day-to-day operations be conducted on an authorized AIS, which has the proper level of security control." AIS stands for Automated Information System.
Watchdog Report
And the issue of government versus private e-mails was raised more than two years ago by the State Department inspector general. A watchdog report from August 2012, when Clinton was secretary, criticized the ambassador in Nairobi, Kenya, for using a non-government e-mail account.
"It is the department's general policy that normal day-to-day operations be conducted on an authorized information system, which has the proper level of security controls," the report said. "The use of unauthorized information systems increases the risk for data loss, phishing, and spoofing of e-mail accounts, as well as inadequate protections for personally identifiable information."
Separately, a 2011 cable to all missions and embassies, which was signed by Clinton, warned employees about the risks of personal e-mail addresses in light of the hacking of Google's Gmail accounts.
"Avoid conducting official Department business from your personal e-mail accounts," according to the cable, previously disclosed by Fox News.
White House
Some members of Obama's White House staff, however, have routinely communicated with reporters and others using text messages and private e-mail accounts that aren't part of the public record.
White House press secretary Josh Earnest said some Obama staffers were aware that Clinton wasn't using a government-issued e-mail address.
"There were senior White House officials who were e-mailing with Secretary Clinton when she was in office," Earnest told reporters traveling with the president to South Carolina on Friday.
Earnest said that while White House officials may have "noted that she was not using a .gov e-mail address," they had a reasonable assumption to think she was complying with the federal records act.
He said he had no idea when the president learned about Clinton's private e-mail server at her house and indicated that a matter involving an individual official's e-mail wouldn't be something brought to his attention. "The president obviously has a lot of things on his plate."
The White House has acknowledged some officials knew that House Republicans had knowledge of Clinton's private e-mail account in August while working with the State Department to respond to document requests from the House select committee investigating the attack on the U.S. consulate in Benghazi.