Raiders Sign Lease to Stay in Oakland at Least One More Year
Erik Matuszewski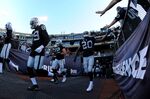 The Raiders signed a lease at the O.co Coliseum for the 2015 National Football League season, keeping the team in Oakland for at least one more year.
The Raiders have spent the past 20 seasons in Oakland. The franchise relocated to Los Angeles from 1982 through 1994 after playing in Oakland for its first 22 years.
The Raiders will continue to seek public subsidies for a new stadium at the Coliseum complex. The team this month also developed a proposal, in conjunction with the San Diego Chargers, for a $1.7 billion privately funded shared stadium in Carson, California, if they can't get stadium deals agreed upon in Oakland and San Diego by the end of 2015.
The NFL previously said that it wouldn't allow any team to relocate to Los Angeles for the 2015 season.
The nation's second-largest market, Los Angeles hasn't had an NFL team since the Raiders moved back to Oakland and the Rams left for St. Louis in 1995.
Before it's here, it's on the Bloomberg Terminal.
LEARN MORE