Obama's Long Road Back to South Carolina
Seven years after the Palmetto State's black voters gave him a key primary victory, Obama returns.
By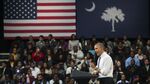 In 2007 and early 2008, Barack Obama spent so much time in South Carolina he probably could have given you turn-by-turn directions through Greenwood, where supporter Edith Childs coined his campaign call-and-response, "Fired up! Ready to go!" or through Columbia, where he and Oprah Winfrey filled up Williams-Brice Stadium in an exuberant, race-melding rally, or through Charleston, where he sat for a cut at the Distinguished Gentleman barber shop.