politics
Obama: Low Voter Turnout Doesn't Live Up to Legacy of Selma
The president called for Congress to renew the Voting Rights Act, but also pointed to low voter turnout among black Americans.
By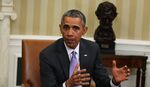 Fifty years after Selma, the work started by of the march on the Edmund Pettus bridge isn't finished, President Obama said during a radio interview on Friday. 
"When it comes to voting, we still see big chunks of the community disenfranchised," Obama said on Sirius XM's "Urban View," according to The Hill. "Part of that is the responsibility of Congress to pass and renew a Voting Rights Act, the seminal capstone of the civil rights movement and the march on Selma." 
In 2013 the Supreme Court struck down the way the 1965 law determined which jurisdictions needed preclearance to change their voting laws. Some Democratic lawmakers have called on Congress to strengthen the law, but the Republicans in Congress have argued that there are still strong protections in place.
Obama made the comments ahead of his Saturday trip to Selma, Ala. to mark the anniversary of the historic march for voting rights. He added that while the generation after the civil rights movement has made great strides "by walking through the doors of opportunity that those giants helped to open up," black Americans also "disempower ourselves by not voting."
"When you think about the mighty battles that were fought, the notion that you'd only have a third or a half of African Americans voting at this stage, that is not living up to the legacy that has been presented," he said.
News outlets and activists pointed out the connection between civil rights issues and low voter turnout in Ferguson, Missouri, where a recent Department of Justice report found several examples of racial bias among city officials. As MSNBC pointed out at the time, the city's voter turnout for the last three mayoral and city council elections never passed 13 percent. At the same time, black American vote in much higher numbers in presidential elections—the black voting rate exceeded the white rate for the first time in the 2012 presidential election.
Obama also made his first comments on the DOJ report, saying that while the examples of racial bias among Ferguson police officers wasn't representative of America, it wasn't an isolated incident. "I think that there are circumstances in which trust between communities and law enforcement have broken down, and individuals or entire departments may not have the training or the accountability to make sure that they're protecting and serving all people and not just some," he said.
Before it's here, it's on the Bloomberg Terminal.
LEARN MORE