Obama Has 'Very Firm Policy' on E-mails, Adviser Says
Valerie Jarrett, senior advisor to the president, draws a bright line between Hillary Clinton's e-mail practices and the Obama administration's.
By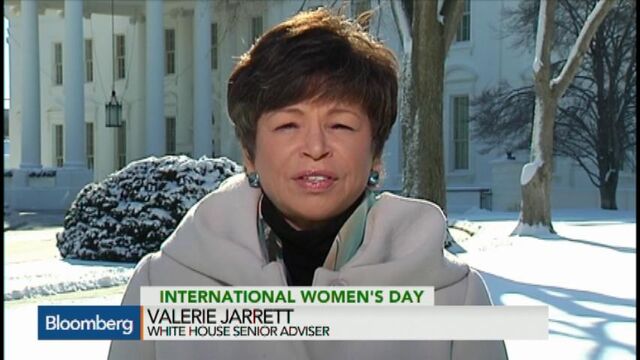 Valerie Jarrett, a senior adviser to President Obama, said Friday that the administration's policy on e-mail was much different than the one used by Hillary Rodham Clinton during her time as secretary of state.
"The president has a very firm policy that e-mails should be kept on government systems," Jarrett said in an interview with Bloomberg's Stephanie Ruhle and Erik Schatzker. "He believes in transparency and I know that the State Department is currently working with the national archives to make sure that all of Sec. Clinton's emails are captured."
Appearing on Bloomberg Television's "Market Makers" from snowy Washington as part of an International Women's Day special, Jarrett elaborated on the e-mail policies of the Obama administration.
"We have training here at the White House on a continuous basis to make sure that our staff understand the importance of keeping it on the system so that it's there. We believe in transparency and we believe public records, that they need to be captured and so we constantly are having trainings for our team to make sure they know what's going on and we encourage all the other agencies to do the same."
On Monday, the New York Times published a report that Hillary Clinton exclusively used a private e-mail address to conduct government business during her four years as secretary of state. On Wednesday, the Associated Press reported that Clinton's e-mails were transmitted and received through a "homebrew" computer server based in her family's home in Chappaqua, New York.
Clinton responded to the ensuing uproar with a tweet declaring that she wanted the public to see her email. "I asked State to release them," she wrote. "They said they will review them for release as soon as possible."
Sources told Bloomberg Politics that Clinton's team is counting on the media coverage to calm down and eventually blow over. "People have very short memories," Chris Lehane, a former Clinton consultant, said. But an analysis from the Washington Post notes that the review of Clinton's e-mails—tens of thousands of pages of them—might reveal breaches in security policy.
For the Obama camp, which brought Clinton into its cabinet after the two competed for the Democratic presidential nomination, the fracas over Clinton's e-mails necessitates a delicate balance. The White House administration has been careful to direct the majority of questions to Clinton's team, which helps them avoid direct criticism of the former cabinet member, who is widely expected to run to succeed Obama. Caught in the crossfire is current White House communications director Jennifer Palmieri, who plans to join the Clinton campaign in a similar role later this month.