Nuclear Talks Not Part of an Iran Grand Bargain, Kerry Says
Terry Atlas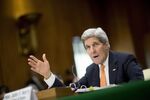 Secretary of State John Kerry, seeking to counter a wave of anxiety among Persian Gulf allies, said a potential nuclear deal with Iran isn't part of a "grand bargain" to improve U.S. relations with the Islamic Republic.
Kerry met Thursday in Riyadh with Saudi Arabia's King Salman Bin Abdulaziz Al Saud and other Saudi leaders, as well as foreign ministers from Gulf Arab states, to brief them on the status of the nuclear negotiations and to try to dispel concerns about where the U.S. stands on Iran's conventional threats in their region.
In negotiating with Iran, which has produced photos of him seated with his smiling Iranian counterpart, Foreign Minister Javad Zarif, Kerry finds himself somewhat uncomfortably straddling one of the region's major fault lines, between the Sunni-led Arab states and Shiite Iran.
The Saudis and their allies accuse Iran of fomenting unrest by supporting armed Shiite movements, while Iran says the Gulf Arab nations are to blame for the spread of Sunni extremist groups such as al-Qaeda and Islamic State.
The nuclear talks, coupled with what many see as a correlation of U.S. and Iranian interests in fighting Islamic State extremists in Syria and Iraq, have fueled speculation that the Obama administration may be tilting in Iran's direction after more than three decades of American hostility toward the Islamic Republic.
In a region where rumors become accepted as fact, that view has become prevalent enough that Kerry, unprompted by a question, felt the need to debunk it during a press conference with Saudi Foreign Minister Saud al-Faisal.
No 'Grand Bargain'
"Let me underscore, we are not seeking a grand bargain," Kerry said. "Nothing will be different the day after this agreement, if we were to reach one, with respect to all the other issues that challenge us in this region, except that we will have taken steps to guarantee that Iran will not have a nuclear weapon."
The Sunni Arab states, foremost among them Saudi Arabia, see Iran as the major source of regional turmoil.
While worried "of course" about Iran's nuclear ambitions, "we are equally concerned about the nature of actions and hegemonic tendencies that Iran has in the region," Prince Saud said, with Kerry sitting next to him at their joint press conference. "We see Iran involved in Syria and Lebanon and Yemen and Iraq and God knows where."
Prince Saud expressed alarm about Iran's growing influence in Iraq, most recently including the role that Iranian forces and Shiite militias are playing in the Shiite-led Baghdad government's effort to retake Tikrit, a largely Sunni city northwest of Baghdad, from Islamic State.
'Prime Example'
"The situation in Tikrit is a prime example of what we're worried about," Saud said. "Iran is taking over the country."
Kerry took a more measured view, characterizing the offensive as an "Iraqi-designed, Iraqi-led" operation, backed by some Iraqi Sunni leaders.
Iran's military involvement has been spearheaded by Major General Qassem Soleimani, who heads the elite Quds Force of its Islamic Revolutionary Guard Corps.
"Has he been on the ground; is he playing a role? The answer's yes," Kerry said, adding that the U.S. hasn't been coordinating with the Iranians.
Asked about the Tikrit fighting, Josh Earnest, the White House press secretary, said Friday that "it's important that as this mission is undertaken, it's not used as a cover to enact" sectarian revenge.
Earnest, speaking with reporters as President Barack Obama was en route to Columbia, South Carolina, repeated the administration's position that "the United States will not coordinate militarily with the Iranians."
Kerry said he made clear in all his meetings with the Gulf allies that the U.S. has no illusions about the nature of the current Iranian leadership.
'Full Slate'
"Even as we engage with these discussions with Iran around its nuclear program, we will not take our eye off of Iran's other destabilizing actions in places like Syria, Lebanon, Iraq and the Arabian Peninsula, Yemen particularly," he said. "And whether or not we are able to reach a deal on the nuclear program, the United States will remain fully committed to addressing the full slate of issues that we have with Iran, including its support for terrorism."
Kerry said he invited foreign ministers from the Gulf Cooperation Council nations -- Saudi Arabia, the United Arab Emirates, Kuwait, Bahrain, Oman and Qatar -- to come to Washington within weeks for further discussions about ways to strengthen security and increase cooperation.
Saudi Arabia and Iran are fighting what amounts to proxy wars in Iraq and Syria, where Iran and its Lebanese Shiite Hezbollah allies are bolstering President Bashar al-Assad, a member of the minority Alawite offshoot of Shiite Islam, as well as in Yemen, where Iran-allied Houthi rebels, also associate with Shi'ism, have forced out the government backed by the Saudis and the U.S.
'Don't Be Fooled'
In his address to the U.S. Congress on Tuesday, Israeli Prime Minister Benjamin Netanyahu took note of the unusual circumstance.
"Don't be fooled," he said, using another name for Islamic State. "The battle between Iran and ISIS doesn't turn Iran into a friend of America."
Taking a swipe at the cliche that the enemy of my enemy is my friend, Netanyahu said that "when it comes to Iran and ISIS, the enemy of your enemy is your enemy."
In Iraq, an Arab country with a Shiite majority, Iran has been influential since the 2003 U.S. invasion toppled the Sunni regime of Saddam Hussein, and Iranian influence has increased since U.S. combat troops withdrew at the end of 2011.
Iran's involvement "is what is creating instability in Iraq," the Saudi foreign minister said. "This is what is fomenting sectarian struggles in Iraq, which had no sectarian struggles before the involvement if Iran in Iraq's affairs."
While true up to a point, Hussein's oppressive regime largely empowered Sunnis over the majority Shiite population.
Kerry said Iran's involvement reflects the weakness of Iraqi security forces and institutions.
"As the Iraq army stands up more and more, militias and external actors are going to be less and less needed," Kerry said. "But that's not where they are, and I emphasize this is not an American-designed operation" against Tikrit.
On Saturday, Kerry is scheduled to fly to Paris from London to discuss the Iranian nuclear negotiations with the foreign ministers of France, the U.K. and Germany, nations which along with the U.S., Russia and China are aiming for a full agreement by the June 30 deadline.
Before it's here, it's on the Bloomberg Terminal.
LEARN MORE