New Jersey Senator Menendez to Face U.S. Corruption Charges
Del Quentin Wilber, David Voreacos and Kathleen Hunter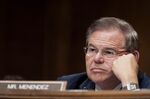 U.S. Senator Robert Menendez of New Jersey may soon face federal corruption charges over his efforts to promote the business interests of a donor in exchange for gifts, a person familiar with the investigation said.
The U.S. Justice Department will probably seek charges in the next few weeks, according to the person, who asked not to be identified because the inquiry hasn't been announced.
Prosecutors have been examining the relationship between Menendez and his friend and campaign donor, Salomon Melgen, a Florida ophthalmologist. Investigators are also probing the senator's actions for the eye doctor in a billing dispute with the Centers for Medicare and Medicaid Services and in Melgen's effort to offer port security services to the Dominican Republic.
"We believe all of the senator's actions have been appropriate and lawful and the facts will ultimately confirm that," Tricia Enright, a spokeswoman for Menendez, said Friday in an e-mail. "Any actions taken by Senator Menendez or his office have been to appropriately address public policy issues and not for any other reason."
Menendez, 61, is the top Democrat on the Senate Foreign Relations Committee. He was its chairman until January when Republicans took control of the Senate. A former U.S. representative, he was appointed to the Senate in 2006 and has twice won re-election. He served as chairman of the Democratic Senatorial Campaign Committee during the 2010 campaign cycle.
Grand Jury
Attorney General Eric Holder has approved a request by prosecutors to proceed with the case, according to CNN, which first reported the potential charges. Holder, traveling with President Barack Obama to an event in South Carolina, declined to comment on the matter.
The Justice Department's Public Integrity Section and the Federal Bureau of Investigation began the probe two years ago in Florida. It has shifted to a federal grand jury in Newark, New Jersey, where a Melgen family member testified late last year, according to another person familiar with the matter.
Menendez previously said he wrote a $58,500 check in 2013 to reimburse Melgen for two 2010 trips the lawmaker took to the Dominican Republic on Melgen's private jet.
In 2012, Melgen's business gave more than $700,000 to Majority PAC, a super political action committee that supports Democratic Senate candidates. The committee spent $582,500 to help Menendez win re-election.
'Like Brothers'
In a 2013 interview with Bloomberg News, Melgen said, "The senator and I have become like brothers, like friends."
"I talk to him weekly. I see him once a month. Not right now, since this whole thing has started. But we enjoy each other's company," he said. "To me, he's the leader of the Hispanic community. I believe in him."
Menendez has visited Melgen's Dominican house "many times" as well as his home in North Palm Beach, Florida, the doctor said in 2013.
U.S. agents have twice raided Melgen's offices as part of its Medicare billing probe.
Before CNN's report, Menendez held a news conference at his Newark office to outline his proposed reforms to the National Flood Insurance Program. He didn't mention the investigation. He plans to speak to the media later on Friday.
Christie Appoints
Should Menendez step down or be forced to resign, Governor Chris Christie, a potential Republican candidate for president, would seek to build support among primary voters by appointing a conservative, said Brigid Harrison, a political science professor at New Jersey's Montclair State University.
Harrison isn't expecting a vacancy.
"Menendez, who has been the subject of numerous investigations, would probably not step aside in any big hurry," she said, adding there are few "repercussions for staying in office."
On Feb. 27, the New Jersey Law Journal reported that two aides to Menendez have refused to answer questions by the grand jury. The Law Journal cited a sealed opinion inadvertently posted on the website of the U.S. Court of Appeals in Philadelphia and then withdrawn because it involves a confidential grand jury investigation.
Overbilled
The Medicare agency ruled in 2009 that Melgen overbilled by $8.9 million in 2007 and 2008 for an eye medicine he uses on patients in his four South Florida clinics. Melgen also owns a company that sought to provide X-ray inspection services of shipping containers at Dominican ports. That company has been unable to get the Dominican government to honor the contract, he has said.
The Law Journal cited the following from the opinion:
Menendez and his staff met on June 7, 2012, with Marilyn Tavenner, then the acting CMS administrator, to advocate on Melgen's behalf in the billing dispute. Menendez later called Tavenner to follow up, and Menendez and Nevada Democrat Harry Reid, then the Senate majority leader, met on Aug. 2, 2012 with Kathleen Sebelius, then-Health and Human Services secretary.
On the port security contract, Kerri Talbot, Menendez's former chief counsel, sent an e-mail to a staff member at U.S. Customs and Border Protection. She asked the agency to refrain from donating used screening equipment to the Dominican Republic to help a contractor controlled by Melgen make a sale.
Speech or Debate
The dispute before the appeals court involves Talbot and Michael Barnard, a legislative assistant on health-care issues, who were called to testify and said they wouldn't answer questions, citing the Constitution's Speech or Debate Clause. Courts have interpreted the clause to mean lawmakers and their aides can't be prosecuted for legislative acts.
Barnard refused to answer 50 questions before the grand jury about Menendez's conversations with Tavenner and Sebelius, and communications between the senator's office and Alan Reider, a lawyer and lobbyist for Melgen at Arnold & Porter LLP in Washington.
Talbot refused to answer grand jury questions about whether Menendez would invoke the Speech or Debate Clause to challenge the government's use of e-mails with Customs and Border Protection.
U.S. District Judge Anne Thompson granted a motion by prosecutors on Nov. 25, ruling that the aides must testify. In its Feb. 27 ruling, a three-judge appellate panel reversed that decision and returned the matter to Thompson.
The judge must analyze each communication in dispute to determine whether it is a legislative act or not. If considered legislative, the aides can claim the Speech or Debate Clause applies.
Before it's here, it's on the Bloomberg Terminal.
LEARN MORE