Mets' Harvey Pitches Two Perfect Innings in Post-Surgery Debut
Mason Levinson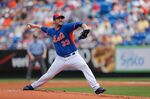 Matt Harvey retired all six batters he faced as he pitched two innings for the New York Mets in his return from elbow-ligament replacement surgery.
Harvey, 25, took the mound yesterday for the first time in 559 days in the Mets' spring-training home opener against the Detroit Tigers in Port St. Lucie, Florida.
Harvey, who last pitched Aug. 24, 2013, attempted to rehabilitate his right elbow before opting to undergo the procedure known as Tommy John surgery in October 2013.
"I felt like I never left," Harvey told reporters after yesterday's 5-4 win over Detroit. "The ball was coming out good."
Harvey struck out the first batter he faced, centerfielder Anthony Gose. He broke Jose Iglesias's bat on one pitch, forcing a groundout, and got Rajai Davis to ground out as he showed his fastball and breaking pitches during the 10-pitch first inning.
Harvey struck out Jordan Lennerton and Bryan Holaday in the second inning before being replaced by Noah Syndergaard in the third.
Three months earlier, Harvey started the All-Star Game at the Mets' Citi Field. He was among Major League Baseball's most dominant pitchers that season before the injury, going 9-5 with a 2.27 earned run average in 178 1/3 innings while striking out 191 batters.
The Mets' regular-season opener is April 6.
Before it's here, it's on the Bloomberg Terminal.
LEARN MORE