Wage Data That Drove Treasury Rout in February Loom for Bonds
Wes Goodman and Anchalee Worrachate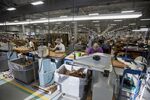 For investors who predict 2015 will be a losing year in the $12.6 trillion Treasury market, Friday is a good candidate for the next move lower.
The U.S. is scheduled to issue its monthly employment report, and a Bloomberg News survey of economists projects job gains topped 200,000 for a 12th time. After the previous round of payroll figures on Feb. 6 came in stronger than analysts forecast -- along with a surge in wages -- Treasuries suffered their biggest rout in a year and a half.
"There might have been some blips in the U.S. data lately but if the improvement in jobs data holds, we think the Fed will be on course to raise interest rates sooner rather than later," John Stopford, head of fixed income at Investec Asset Management in London, said, referring to the Federal Reserve. "The market hasn't fully priced that in yet. We don't like short-dated Treasuries," he said.
The benchmark Treasury 10-year yield was little changed at 2.12 percent as of 7:47 a.m. New York time, according to Bloomberg Bond Trader data. The price of the 2 percent note maturing in February 2025 was 98 30/32. The rate on two-year securities was also little changed at 0.64 percent.
The Bloomberg U.S. Treasury Bond Index dropped 0.8 percent after the Feb. 6 data. That was the biggest decline since July 5, 2013 -- also the date of an employment report. The index tumbled 1.8 percent in February, the worst month since May 2013.
Bright Spot
Jobs have been a bright spot in the U.S. economy, curtailing demand for the haven of government debt.
Employers added 235,000 workers in February, after hiring 257,000 the previous month, according to the Bloomberg survey. January's figure capped the biggest three-month gain in 17 years.
The unemployment rate fell to 5.6 percent from 5.7 percent, matching the lowest level since 2008, a separate survey showed. Average hourly earnings increased 0.2 percent, based on the responses, after January's 0.5 percent advance that was also the best since 2008. The Labor Department will release the figures at 8:30 a.m. Friday in Washington.
Economic data that are the best since 2008 hold a special significance because they indicate growth is strengthening to levels last seen before the global financial crisis. Credit markets froze and Lehman Brothers Holdings Inc. collapsed that year, leading to the worst U.S. recession since the Great Depression.
Yield Range
The 10-year yield was about five basis points, or 0.05 percentage point, below its level at the start of the year as investors were caught between the improvement in economic data and some dovish comments from Fed policy makers. Chair Janet Yellen said in February that the central bank's timetable for raising interest rates is flexible.
The Fed cut its benchmark interest rate to almost zero at the end of 2008 and has kept it there ever since. With the economy improving, policy makers will increase borrowing costs in about 6 1/2 months, a Morgan Stanley index shows.
Fed Reserve Bank of San Francisco President John Williams said on Thursday that mid-year may be time for a "serious discussion" about raising rates as the labor market nears full employment and inflation rebounds.
"The time is coming when we'll be making our first steps down the road to normalization," Williams said Thursday in the text of a speech prepared for delivery in Honolulu. "What I see when I look at the data that strip out the short-term volatility is an economy that's got a good head of steam and is getting close to full employment."
Rate Outlook
At Samsung Asset Management Co., slowing U.S. job gains reported this week by ADP Research Institute are a sign Friday's report won't pose a threat to Treasuries. Private employers added 212,000 positions in February, falling from 250,000 in January, ADP said on March 4.
Tumbling yields in Europe are making it more attractive to invest in Treasuries, said Wontark Doh, head of overseas fixed-income investment at Samsung Asset in Seoul. The company, with $112.5 billion in assets, is South Korea's largest private bond investor.
"Treasury yields will be lower" after Friday's payroll report, Doh said.
European Central Bank President Mario Draghi said Thursday the ECB will start buying government bonds in the region on March 9 as part of its plan to combat deflation. German 10-year yields fell to a record 0.283 percent on Feb. 26 in anticipation of the purchases. The U.S. yield premium over Germany of about 177 basis points is the most in 25 years.
Who has money at stake in Treasuries? Just about everyone. The biggest holders are U.S. households, banks, insurance companies, pension funds and mutual funds, along with foreign investors, according to Federal Reserve data.
The Treasury 10-year yield will rise to 2.60 percent by year-end, based on a Bloomberg survey of economists.
Before it's here, it's on the Bloomberg Terminal.
LEARN MORE