Islamic State Driven From Town Near Key Iraq Airbase, U.S. Says
Zaid Sabah and David Lerman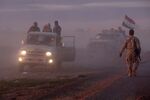 Islamic State fighters have been driven out of the town of Al-Baghdadi in western Iraq, reducing the threat to a nearby airbase where American advisers are stationed, the U.S. military said.
Iraqi soldiers and their tribal allies, supported by U.S. airstrikes, cleared the town of militants and recaptured three bridges over the Euphrates river and seven nearby villages, the military said in an e-mailed statement.
The Islamic State takeover of al-Baghdadi last month caused concern because of its proximity to the Ayn al-Assad airbase, where U.S. military advisers are training local forces. A group of militants, including several suicide bombers, were halted a month ago when they tried to enter the base.
The cooperation between the Iraqi and U.S. military in Baghdad contrasts with the offensive to recapture the town of Tikrit, north of Baghdad, from the jihadists. On that front, there have been no American airstrikes in support of the Iraqi units, while Iranian commanders are involved in planning and Iran-backed Shiite militias play a key combat role.
While the Tikrit offensive has dislodged Islamic State from nearby oilfields, it hasn't yet penetrated far into the town itself. Sheikh Rafei Mishen al-Jumaily, head of a local tribe fighting alongside the jihadists, said by phone on Friday that Islamic State has sent reinforcements from Mosul, the largest town it controls in Iraq, to strengthen Tikrit's defenses.
'To the End'
"We have deterred the government attacks in more than one front," he said. "Our brothers will defend Tikrit to the end."
Al-Jumaily said about 150 Shiite militia members, including some Iranians, were captured in Tikrit and taken to Mosul where they were killed at a site where a former police chief used to execute Sunnis.
Tikrit, Saddam Hussein's hometown, is in Salahuddin province about 80 miles (130 kilometers) north of Baghdad. Al-Baghdadi is about the same distance from the capital, to its northwest, and is in the mostly Sunni Anbar province, Iraq's largest. Islamic State controls large areas of the province and is still fighting to capture its capital, Ramadi.
Before it's here, it's on the Bloomberg Terminal.
LEARN MORE