Illegal Youth's Medal Highlights French Struggle With Immigrants
Helene Fouquet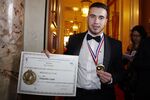 Armando Curri, 19, was judged France's best apprentice carpenter, entitling him to a government medal. Trouble was, Curri is an illegal Albanian immigrant.
The very public event this week resulted in the country awarding the youngster not only his medal, but also papers to stay on legally in France. Without the publicity, he would have been deported.
"I'm proud of having got here," Curri told the head of the Senate, France's second-highest ranking statesman, when he was awarded the medal on Wednesday. "You should never give up because you'll get there in the end." Curri said his dream is to create his own company and "hire French people."
The case has opened a Pandora's Box on issues surrounding French immigration, both legal and illegal. In the post-Charlie Hebdo-attacks world, everything from collecting data on an ethnic or race basis to employment and integration is being put on the table. The debate comes just weeks before local elections in which the anti-immigrant National Front party is leading the pack, polls show.
Concerned about the issue, the government organized a seminar today on "equality and citizenship." It commissioned a study on immigrants' access to economic opportunities. The country's poor record prompted Prime Minister Manuel Valls to vow a fight against discrimination.
After home-grown Islamist terrorists attacked the satirical magazine Charlie Hebdo, a policewoman and a kosher grocery in Paris, claiming 17 lives in January, Valls said France suffers "territorial, social and ethnic apartheid." Valls, who was himself born in Spain and acquired French citizenship, told the National Assembly last month that there are "injustices" and "inequalities" that are "challenges to the country."
'Damning Verdict'
For young immigrants and for descendants of immigrants, getting a job and recognition in France is a battle. A 16-page survey completed by France Strategie, a state-backed think tank, lists the discriminatory practices confronted by them.
More than 40 percent of French youth under 25 with immigrant parents from Africa are unemployed, twice the rate of their counterparts with Gallic parents, the study shows. Young males from North and Sub-Saharan Africa "face particular difficulties integrating into the labor market," according to France Strategie, which says that they face discrimination at multiple levels from housing and education to health facilities.
"Even if some statistics were gathered in the past, the numbers speak for themselves," Helene Garner, among the authors of the France Strategie report, said in an interview. "The verdict is damning and we keep being surprised by the gravity of the situation. No social and geographical mobility, education inequalities, job discrimination and the fact that in France who you know is still important to get access, are among the things we've identified."
'Ethnic Ghettos'
A third of French citizens have a parent of foreign origin. Of the country's 66 million people, more than 10 percent have at least one parent born outside the country, INSEE figures show.
For all that, France's efforts to strive for "egalite" means the country bans gathering ethnic or religion-based statistics. It is seen as a breach of the national credo that "all French children are children of the Republic." On a practical level, however, the absence of such statistics make it more difficult to pin down discrimination, Garner said.
"If we want to fight ethnic ghettos, we will need ethnic statistics," Francois Puponi, the mayor of Sarcelles, a suburb of Paris plagued with youth unemployment, said on France Info radio on Friday.
France doesn't have policies for "affirmative action," locally called "positive discrimination," even as it uses quotas for handicapped workers and seeks out gender parity.
The France Strategie survey was commissioned after the terrorist attacks in January. The three attackers were born in France to parents of African origins.
Le Pen
While the nation rallied after the bloodbath, soon "France Turned Inward," weekly Magazine L'Obs said last month, carrying a survey where 31 percent of the respondents said they didn't believe Muslims were "French like the others."
The government's meeting on discrimination and how to counter it comes as France prepares for a crucial departmental election this month that may give the anti-immigration party National Front sweeping victories and momentum in the political debate.
Opinion polls show Marine Le Pen's party is set to make major gains in the two-round vote on March 22 and 29.
For the National Front, which has maintained its criticism of France's immigration policies while playing down its earlier racist and Holocaust-denial stances, the election comes at a critical moment.
The French economy has barely grown in the past three years as the steepest taxes in the euro zone weighed on investment and weak competitiveness hurt exports. The stagnation drove jobless claims to near a record high in December with youth unemployment on average topping 23 percent.
Although the young apprentice Curri's story ended on a happy note after the Senate initially didn't want to "welcome into its midst an undocumented person," for most of France's youth of immigrant origins, access to economic opportunities remains challenging.
Before it's here, it's on the Bloomberg Terminal.
LEARN MORE