HeidelbergCement Plans to Invest in South Africa, Mozambique
Pauline Bax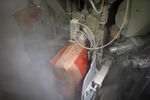 HeidelbergCement AG, the world's third-biggest cement maker, is considering adding South African and Mozambique production capacity as the German company seeks to tap growing demand for construction material in Africa.
"Africa is an important part of our emerging markets exposure," Chief Executive Officer Bernd Scheifele said in an interview late on Wednesday. The continent "has seen very stable growth in demand for cement in the last few years, which is independent from what's happening in the world economy." Demand is growing at a rate of about 5 million metric tons per year, he said.
Scheifele was speaking in Ouagadougou, the capital of Burkina Faso, before the opening of a $50 million grinding plant in the West African country. The factory will produce 700,000 metric tons a year, boosting the Heidelberg, Germany-based manufacturer's annual capacity on the continent to about 10 million tons, he said. HeidelbergCement added 2.9 million metric tons of capacity in Africa last year, its biggest growth region, Scheifele said Feb. 10.
The cement maker operates in Ghana, Benin, Liberia, Tanzania, Sierra Leone, Togo and Democratic Republic of Congo. The shares rose 0.2 percent to 70.68 euros as of 9:05 a.m. in Frankfurt. The stock has gained 20 percent this year, valuing the company at 13.3 billion euros ($14.6 billion).
Demand for infrastructure has made Africa a target for cement makers including Lafarge SA, which is merging with Jona, Switzerland-based Holcim Ltd. to create the world's biggest producer. The Paris-based company plans to boost capacity at its plants in Nigeria and South Africa to more than 20 million tons by 2020 from 12 million tons, Anders Kristiansson, chief financial officer of the Africa unit, said in December.
African Expansion
Dangote Cement Plc, Africa's biggest producer of the building material, plans to expand into 14 African countries outside its home Nigerian market and is investing about $4 billion to boost capacity to 50 million tons by the end of this year. In South Africa, PPC Ltd. and AfriSam are in talks to merge the country's two biggest cement makers to step up expansion on the continent.
HeidelbergCement will supply its Burkina Faso unit with raw materials from the country's southern neighbor Togo, where the company is also building a $300 million clinker plant. Scheifele declined to give further detail about the investment plans. The company's shares
Before it's here, it's on the Bloomberg Terminal.
LEARN MORE