Green Leader Seeks to Win Back Credibility for U.K. Vote
Thomas Penny and Alex Morales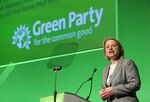 Green Party leader Natalie Bennett sought to restore her image after 10 days of being lampooned for the botched launch of her campaign for the U.K. election May 7.
Bennett, who forgot details of her party's housing policy during what she later described as an "excruciating" radio interview on Feb. 24, was ridiculed in the House of Commons by Prime Minister David Cameron Wednesday. The press conference after the interview was a "car crash," Cameron said.
"In nine weeks time you'll have in your hands something miraculous, the possibility of a peaceful political revolution," Bennett said on Friday in a speech to her party's spring conference in Liverpool, northwest England. "Your vote can change the face of Britain, it can end the failed austerity experiment, the spiteful blaming of the poor, the sick and vulnerable for the mistakes of the wealthy."
Polls put support for the Greens at about 7 percent and membership is booming. The party, which currently has one House of Commons lawmaker, is taking support from the opposition Labour Party and the Liberal Democrats, the junior partners in the coalition government.
The Greens are fielding candidates in more than 90 percent of districts in England and Wales and positioning themselves as the anti-austerity alternative, drawing inspiration from the victory of Syriza in the Greek general election. A discussion entitled, "What Syriza's election victory means for the left in the U.K.," was scheduled for the main hall of the conference.
'Extra Left'
Bennett's struggle to recall policy details may not be a hindrance to the Greens as they seek to distance themselves from the mainstream political parties, according to Andrew Russell, professor of politics at Manchester University.
"One of the purposes of the Greens right now is not to provide detailed policies so you can see them as a party of government, it's to be the extra left opposition," Russell said in a telephone interview. "They're almost the Syriza to the Westminster system."
The party might do better if it used Caroline Lucas, its only House of Commons lawmaker, rather than Bennett as its lead spokeswoman, Russell said. Lucas introduced Bennett today with a call to form a "progressive alliance" with the Scottish National Party and Plaid Cymru, the Welsh nationalists.
"We do leadership differently," Lucas said in her speech. "I'm proud to call Natalie my colleague and my friend, she's doing an outstanding job and we all owe her our thanks and support."
Standing Ovation
Activists cheered Bennett as she arrived in the conference centre and when she took her seat on the stage. Her speech was punctuated by applause and received standing ovations at either end.
"What she does as leader is amazing, I'd follow that girl to hell and back," John Devine, 65, the party's candidate for Amber Valley in central England, said in an interview. "She's a proper leader, she's been to our constituency in the back of beyond, she's spoken to people, she's given encouragement, she's doing a great job."
Andrew Tobert, 30, a Green activist from London, said party membership, which has quadrupled in the last year to 55,000 from 13,000, spiked after Bennett's disastrous radio interview.
"People respected her for being human. You either get a slick politician who gives a PR answer or you get a real human being, and people like a real human being," he said. "The numbers speak for themselves, we're four times bigger than we were a year ago, and we're doing better in the polls than we've ever done."
Deputy Prime Minister Nick Clegg outlined the environmental achievements of the government Friday in an attempt to stem the flow of votes from his Liberal Democrats to the Greens.
"From coasts to cities, and woodland to water, I have made protecting the environment one of my top priorities," Clegg said in an e-mailed statement. "I'm proud to say that we've made real changes, from planting new trees, to boosting green travel options in cities. The powerful steps we've taken will conserve our environment now and for years to come."
Before it's here, it's on the Bloomberg Terminal.
LEARN MORE