Fosun Buys Thomas Cook Stake in Club Med Tourism Partnership
Richard Weiss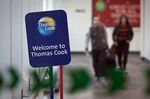 Fosun International Ltd., controlled by Chinese billionaire Guo Guangchang, will buy a stake in Thomas Cook Group Plc to foster cooperation between the U.K. tour operator and the Club Mediterranee SA asset it's in the process of buying.
Thomas Cook surged as much as 18 percent, the most since March 2013. The company will sell 73.1 million new ordinary shares to Fosun, equal to a 5 percent stake, for 91.8 million pounds ($140 million), the London-based tour provider said in a statement Friday. Fosun plans to increase the holding to about 10 percent over time by buying additional shares on the market.
"This is in no way a defensive move," Thomas Cook Chief Executive Officer Peter Fankhauser said on a conference call. "We are taking our future into our own hands." Fosun has no plans to increase its stake beyond 10 percent, Fankhauser and Fosun executives said on the call.
Fankhauser, who took the helm in November after the surprise resignation of Harriet Green, is pushing through a second round of restructuring after Green slashed costs and put Thomas Cook on a new financial footing following the need for emergency funding in 2011. The deal provides a cash injection for a company that is rated five levels below investment at Standard & Poor's.
Global Investments
Thomas Cook rose 17 pence, or 14 percent, to 137.6 pence as of 8:58 a.m. in London. That propelled the stock to a 8.2 percent gain this year, valuing the company at 2.02 billion pounds.
The partnership with Shanghai-based Fosun will improve access to the Chinese tourism market and the two companies will cooperate on hotels, Thomas Cook said. Collaboration will also extend to Club Med, the Paris-based resort company that Fosun and investors are acquiring after a protracted takeover battle.
The companies will create a fund to develop new concept hotels, with Fosun supplying the majority of money and Thomas Cook the operational expertise, Fankhauser said
If implemented in 2015, the deal will help earnings in the financial year ending in September 2016, the tour operator said, adding it is too early to assess in more detail the impact on sales and profit.
Global mergers and acquisitions in tourism more than doubled in value in 2014 as low borrowing costs and growing competition fueled the busiest year in seven for deals in the industry.
Fosun is buying the stake through its Portuguese insurance subsidiary Fidelidade-Companhia de Seguros. The company is also buying Club Med in a deal worth 970 million euros.
Fosun is spending $1.6 billion to build a resort in Hainan province together with Dubai-based Kerzner International Holdings Ltd., developer of the Atlantis properties in the Bahamas and Dubai, and the company is weighing a bid for the five-star Grosvenor House hotel in London, a person with knowledge of the matter said.
Credit Suisse acted as financial adviser to Thomas Cook in the transaction.
Before it's here, it's on the Bloomberg Terminal.
LEARN MORE