Fed's Williams Says 'Serious' Rate-Rise Talks Due Mid-Year
Jeff Kearns and John Gittelsohn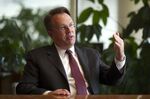 Federal Reserve Bank of San Francisco President John Williams said mid-year may be time for a "serious discussion" about raising interest rates as the labor market nears full employment and inflation rebounds.
The U.S. will reach maximum employment by year-end or sooner, lifting wages and inflation, which means the Fed should raise rates before achieving its policy goals, Williams, who votes on policy this year, said Thursday in the text of a speech prepared for delivery in Honolulu.
"The time is coming when we'll be making our first steps down the road to normalization," Williams said. "What I see when I look at the data that strip out the short-term volatility is an economy that's got a good head of steam and is getting close to full employment."
Policy makers will get an update on the labor market Friday with the February jobs report, the last one to be released before the next Federal Open Market Committee meeting on March 17-18. While officials said in January they would be "patient" in raising rates, Fed Chair Janet Yellen signaled to Congress last week that their patience had its limits, laying the groundwork for a possible rate rise later this year.
Williams said the pace of any interest-rate increases in 2015 would be gradual. "Our initial step will probably be in that quarter-percentage point increment," he told reporters after his speech. "After that, obviously, it'll be data driven, and so it depends on the economy."
Downright Good
Inflation according to a trimmed-mean measure that omits the highest and lowest readings is running about 1.5 percent, Williams said. The strengthening domestic economy will overwhelm the effects of low energy prices and the strong dollar, pushing inflation gradually back to 2 percent, he said.
Williams said the economy is looking "downright good" and forecast growth this year of just under 3 percent. "The economy is showing solid momentum and there's good news in virtually every sector," he said.
The economy could expand 4 percent if Japan, Europe and China grew faster, he said after the speech.
Because monetary policy works with long lags, officials should not wait until they are "face-to-face" with their 2 percent inflation goal, Williams said.
"We could drastically overshoot the mark -- winding up in that metaphorical intersection or even fully running the red light," Williams said. "Overshooting our target would force us into a much more dramatic rate hike to reverse course, which could have a destabilizing effect on the markets and possibly damage the economic recovery."
Jobs Report
Williams said in a Jan. 12 interview he has seen "strong momentum" in the labor market, and by June "the argument pro and con for lifting off rates will be probably a close call" assuming that inflation doesn't fall further. The FOMC is scheduled to meet June. 16-17.
The Labor Department jobs report tomorrow will show whether job gains kept pace with earlier advances. Payroll growth is surging, with the 336,330 three-month average through January marking the best such stretch since the end of 1997.
Employers added 235,000 jobs last month, according to the median of 96 economist estimates in a Bloomberg survey. The jobless rate fell to match a six-year low of 5.6 percent from 5.7 percent in January, according to the projections.
Williams, 52, joined the San Francisco Fed in 2002 and was director of research before becoming president in 2011. He succeeded Yellen as chief of the regional bank, one of 12 in the U.S. His district includes Alaska, Arizona, California, Hawaii, Idaho, Nevada, Oregon, Utah and Washington.
Before it's here, it's on the Bloomberg Terminal.
LEARN MORE