It's QE, Mario, But Not as Investors Know It
David Goodman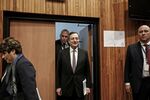 The European Central Bank's flexible approach to buying 1.1 trillion euros ($1.2 trillion) of euro-area bonds risks making the process more opaque for investors.
Starting on Monday and for the next 19 months, both the ECB and the euro area's 19 national central banks will seek to buy debt from counterparties in the secondary market. Within limits, their trading desks will have discretion over what they buy and when, in contrast to the Federal Reserve, which issued a calendar for the purchases it made in the U.S.
"There is high potential for a lot of weird market effects," said Lyn Graham-Taylor, a fixed-income strategist at Rabobank International in London. "Reverse auctions would arguably make the process cleaner."
The ECB in Frankfurt will grant the national central banks, known as NCBs, wiggle room as they carry out purchases within their home markets, allowing them some choice between government and agency debt. It also avoided setting a target for the duration of the purchases, a measure of the sensitivity of bond prices to movements in yield.
"The Eurosystem will follow an internal benchmark when coordinating its purchases, with some flexibility for the NCBs to purchase their shares within the universe of eligible instruments," the ECB said in a statement on its website. The flexibility will be reviewed by policy makers based on their experiences as the plan unfolds, it said.
In the U.S., the Fed typically bought Treasuries using reverse auctions in its QE program that ended last year. In those, sellers competed to sell to the central bank, as opposed to a traditional auction, in which buyers bid to acquire securities.
Grey Areas
In the euro area, purchases of bonds will be made roughly in proportion to the capital that each member central bank has contributed to the ECB, though that guideline doesn't have to be strictly followed every month.
"Grey areas remain," ABN Amro Bank NV analysts, including Amsterdam-based head of macro research Nick Kounis, wrote in a note on Thursday. "While government-bond and national-agency purchases will follow the ECB capital key, the ECB will still have room to maneuver."
The ECB published details of the bond-buying program on its website after President Mario Draghi held a press conference at which he unveiled forecasts showing higher economic growth with an inflation outlook that puts officials on track to reach a goal of just below 2 percent.
He had already said in January that the ECB would buy 60 billion euros a month of public and private debt to boost price growth in the euro area, without providing details on how the strategy would be enacted.
March 9 Start
Rates across the euro area tumbled to fresh lows after the ECB's Jan. 22 announcement of purchases, which Draghi said on Thursday are due to start on March 9. The average yield to maturity on the region's government debt was 0.567 percent on Thursday and reached 0.538 percent Feb. 26, the least since at least 1995, according to Bank of America Merrill Lynch indexes.
The flexibility has some advantages, according to Luca Cazzulani, a senior fixed-income strategist at UniCredit SpA in Milan. It may help central banks identify where purchases can most easily be made because competition for the securities may come from banks requiring bonds to meet regulatory rules, pension funds who need to match their liabilities, and other central banks, which buy European securities as part of their balance-sheet management.
Extra-Long End
"The main theme appears to be flexibility: there is a broad scheme but no intention to blindly stick to a set of pre-defined parameters," Cazzulani wrote in a research note on Thursday. "The flexibility is important to deal with implementation risk. For example, purchases may become difficult at the extra-long end, which is populated by long-term investors with relatively little incentive to sell."
There are some hard limits within the program, according to the ECB. Only securities due between a minimum two years and a maximum 30 years and 364 days at the time of purchase will be eligible. And bonds with yields below the deposit rate of minus 0.2 percent will be excluded, Draghi said on Thursday.
While the program will acquire no more than 25 percent of any one bond, and 33 percent of any one national issuer, existing holdings from previous asset-purchase plans will be counted toward these limits, the ECB said.
Now trader attention turns to the first day of action.
"The technical statements include several hints at a rather flexible and pragmatic approach," Frederik Ducrozet and Orlando Green, analysts at Credit Agricole SA's corporate and investment banking unit, wrote in a client note. "As ECB's QE will go live next week, the focus will turn on the digestion of asset purchases and market reaction."
Before it's here, it's on the Bloomberg Terminal.
LEARN MORE