Brazil Congressional Chiefs Named in Petrobras Investigation
Raymond Colitt, Anna Edgerton and Sabrina Valle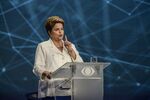 Brazil's Supreme Court gave the green light to investigate the heads of both houses of Congress while ruling out a probe into President Dilma Rousseff in the country's largest corruption scandal.
Renan Calheiros and Eduardo Cunha, the chief of the Senate and lower house respectively, are among senior politicians to be investigated by the prosecutor general. The inquiry is related to an alleged kickback scheme dubbed Carwash that may have funneled hundreds of millions of dollars from state-controlled Petroleo Brasileiro SA to political parties. The Supreme Court press office published the list of names by e-mail on Friday.
The investigation threatens to heighten tension between Congress and the executive branch, likely delaying proposals by Finance Minister Joaquim Levy to cut spending and increase taxes, said Christopher Garman, director for Latin America at political risk consulting firm Eurasia Group.
"In the next couple of weeks and months, the government will suffer defeats," he said by phone after the announcement. "If they put bills to a vote, they'll lose."
The court said it doesn't have the authority to investigate Rousseff, whose approval rating is the lowest of any Brazilian president in 15 years.
Lobao, Hoffmann
Also among those who will be probed are Rousseff's former energy minister, Edison Lobao, and her prior chief of staff, Senator Gleisi Hoffmann. The public prosecutor's office said in an e-mailed statement it seeks to investigate 49 politicians, who hail from parties including the ruling Workers' Party, or PT, and the allied Brazilian Democratic Movement Party, or PMDB.
In total, Brazil's Supreme Court authorized investigation against politicians from six different parties, including lawmakers from the opposition.
Cunha said in a statement on his website he's innocent of any charges of corruption in the probe. Calheiros wrote on his Twitter account he hasn't committed any graft, adding he will answer any questions "in the light of day." The press offices of Lobao and Hoffmann didn't answer telephone calls and e-mails on Saturday requesting comment.
Rousseff's ruling alliance is already strained as coalition partners jostle for power and disagree over austerity measures designed to shrink the budget deficit and prevent a credit-rating downgrade. Calheiros and Cunha are members of the PMDB.
'Political Unrest'
"The political unrest caused by the Carwash operation is just beginning and has already worsened the prospects for Levy's fiscal adjustment," Bernardo Rodarte, who oversees 1 billion reais ($326 million) at Sita Corretora, said before the court's announcement. "The more than 20 billion reais that depend on congressional approval are totally necessary or Brazil will risk losing its investment-grade status."
Folha de Sao Paulo reported Friday that Levy said congressional approval of legislation to shore up fiscal accounts was paramount to re-establish investor confidence.
Swap rates maturing in January 2017 surged 26 basis points, or 0.26 percentage point, to 13.43 percent on Friday. The real fell 2 percent to 3.064 per U.S. dollar and has dropped 13 percent so far this year, the worst performance among the 16-most traded currencies tracked by Bloomberg. The court published the names after markets closed.
Alleged Kickbacks
Some of the kickbacks allegedly paid by contractors in the Petrobras case went to legislators and political parties, including as much as $200 million to the Workers' Party, according to Pedro Barusco, a former Petrobras services manager who made a deal to turn state's witness. The court allowed for an investigation into a former minister from the PT in raising funds for Rousseff's campaign in 2010.
The PT said in a statement Friday that all contributions were within the law.
It's been 12 months since police made the first round of arrests in the alleged money laundering scheme. The probe, named after a gas station and carwash network in Brasilia, has mushroomed as investigators looking into alleged kickbacks and inflated contracts at Petrobras.
The police have detained former Petrobras directors and executives at some of the country's biggest construction companies on allegations of accepting and paying bribes.
More than three-quarters of respondents in a Feb. 3-5 Datafolha poll said Rousseff, who was chairman of Petrobras from 2003 to 2010, knew about the corruption and either let it happen or couldn't do anything to stop it. The scandal, coupled with the threat of an economic recession, has driven her approval rating to 23 percent, a drop of nearly half from December, according to the poll.
Rousseff has said she had no knowledge of the graft and that her government, unlike some previous administrations, is allowing investigations to proceed unhindered.
Before it's here, it's on the Bloomberg Terminal.
LEARN MORE