Bank of Montreal Lifts CEO's Compensation 4.9% to C$9.96 Million
Doug Alexander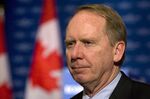 Bank of Montreal awarded Chief Executive Officer William Downe C$9.96 million ($7.89 million) in compensation for 2014, a 4.9 percent increase from a year earlier.
Downe, 62, received about C$1.59 million in salary, C$8.35 million in shares, stock options and incentives, plus C$14,218 in other compensation for the fiscal year ended Oct. 31, the Toronto-based lender said Friday in a filing to Canadian regulators. He received C$9.49 million for 2013. The totals exclude pension costs.
Canada's fourth-largest lender posted record profit of C$4.33 billion for fiscal 2014, up 3.3 percent from a year earlier, according to financial statements.
Before it's here, it's on the Bloomberg Terminal.
LEARN MORE