Stutterheim's High-End Raincoats Show That Swedish Gloom Sells
The brand celebrates "Swedish melancholy at its driest"
By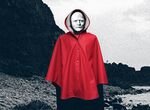 When Alexander Stutterheim decided to sell raincoats out of his Stockholm apartment five years ago, he wanted to set a melancholic scene. The then-38-year-old copywriter hung posters of film director Ingmar Bergman on the walls and played sad Swedish jazz. When customers showed up, the feelings that stirred inside them moved them to open their wallets. The 200 coats, handsewn at a factory in Sweden with poems tucked in the pockets and priced at 1,500 kronor ($180) each, quickly sold out.
"Swedish melancholy at its driest" has since become the slogan for Stutterheim Raincoats. If you're feeling low, you can buy one, for $368 or $1,342 or somewhere in between. "Many brands do everything, but we have gone all in on a Swedish raincoat," says Stutterheim, founder and creative director of the company. Most of its styles feature rubberized cotton. Some are cut wide, others are narrow. Brightly colored coats are available. On its website, the word "antidepressant" appears in large type—and links to one of Stutterheim's latest raincoats, a relatively cheerful multicolored model called Stockholm Carousel.

Black, however, is the best-seller—and the color of Stutterheim's grandfather's raincoat, which inspired the enterprise. Stutterheim remembers he was sitting in a cafe during a rainstorm, with people outside hurrying past with what he describes as ugly umbrellas and little more than wet newspapers to cover their heads. "It was a totally forgotten piece of clothing," says Stutterheim. Some time later he discovered his grandfather's old fisherman's raincoat in an abandoned barn on Arholma, an island in the Stockholm archipelago. Unable to find a similar one in the city, he decided to make a contemporary version.
What for Stutterheim was initially an art project turned into a business. Stutterheim raincoats are now shipped worldwide. The company is seeing strong growth in Europe and the U.S., with sales estimated to reach about 40 million kronor this year, up from 1.5 million kronor in 2011, according to marketing director Johan Loman. Its competitors include rainwear sold at sporting goods stores and brands such as Barbour, whose waxed jackets, once worn mostly for hunting and fishing, became popular with young, trend-conscious customers after Kate Moss was spotted wearing one. Stutterheim's customers range from berry-picking enthusiasts to Brooklyn hipsters. Stutterheim retailers include Barneys New York, which sold a limited edition black raincoat with gold buttons designed by Stutterheim and Jay Z for the 2013 holiday season. Proceeds from sales of the $675 coat went to the hip-hop artist's Shawn Carter Foundation, which helps underprivileged students get a college education.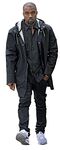 The company remains melancholy despite its successes. And it's reveling in tales of woe. Celebrating "inner and outer demons," as its website states, Stutterheim bestows a "Most Melancholic Person of the Year" award to a well-known, creative Swede. Writer Bodil Malmsten took home the prize in 2012, and singer-songwriter Ane Brun did in 2014. (2013 must have been a happy year in Sweden, because there was "no one melancholic enough" for the prize.) As the Stutterheim website poses rhetorically, "What if August Strindberg, Ingmar Bergman, Karin Boye and hundreds of other famous Swedish artists had felt happy all the time?"
"There's a long history, especially established in the Romantic movement, that the melancholy streak was considered a sign of refinement," says Simon Kyaga, a senior consultant in psychiatry and a researcher at the Karolinska Institutet medical university in Stockholm. "Melancholy was established as a feature for the upper class, that one could afford being sensitive and emotional."
The aim is to be classical and contemporary, says marketing director Loman. "The Swedish back story, plus the minimalist, practical styling, with a contemporary twist, give it an edge," says analyst Maureen Hinton at research firm Conlumino in London.
Stutterheim isn't alone in playing on its Swedish roots. Ikea has been a pioneer with a logo that features the colors of the Swedish flag, as well as jars of lingonberry jam on its shelves and product names like Söderhamn (a couch) and Poäng (an armchair). Volvo Cars produced a new TV ad early this year celebrating Swedish misery. The carmaker, owned by China's Zhejiang Geely Holding, has teamed up with Stutterheim to make and sell a limited-edition raincoat and a car cover.
"It's important to create stories that people actually believe in," says Eva Ossiansson, a brand expert and researcher at the University of Gothenburg. How well a message sells, she says, depends on how natural the connection is to the brand.
Stutterheim has a store called Regn (Swedish for rain) in Stockholm, and the founder has plans to open another outside Sweden in May, though he won't say where. The U.K. clothing label Whistles just released a unisex raincoat line made in collaboration with the Swedish company; the coats sell for about $360 each.
The Whistles deal, says analyst Hinton, gives Stutterheim access to a more affluent, style-driven market. "I can see it being bought by a wide range of customers because it is a stylish way of dealing with the U.K. weather," she says. "I don't think the melancholy theme will put customers off—as long as it is not overplayed."
The bottom line: Sales of Stutterheim's trendy raincoats could reach $4.8 million in 2015, up from $180,000 in 2011.
Before it's here, it's on the Bloomberg Terminal.
LEARN MORE