Style Guide
Spring Shopping List: Five Jackets for Him, and 10 Ways to Wear Them
Reversible outerwear by Valentino, Loro Piana, Todd Snyder, Alexander Wang, and Burberry
By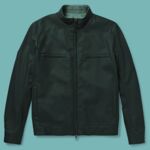 Happy March, or as I like to refer to it: National Winter Fatigue Month.
Like the rest of you, I, too, hate the unpredictability of this weather. The face-numbing winds one day, the warm teases the next. There is nothing we can trust less than than a national forecast map right now.
I grew up in Florida, so until adulthood I never experienced real seasons. Which is great because that means I've suffered from "winter sadness" only for the last third of my life. (Yay me.) That also means that in my youth, if the temperatures dropped below 50 degrees, I had on four layers and the warmest thing I owned was my leather jacket. Or as people in the Northeast call it—the transitional jacket. I had just one, and I didn't need to wear it often. Those were the days.
Now I need multiple options for transitional weather, like many of you. And I share your frustration, because it's a relatively short period of the year to require so many coats. Yet you still don't want to wear the same one every day. So here, I'm sharing five reversible jackets. That's a total of 10 new looks for you—for half the price. 
The weather people and the newspapers are promising better weather soon. But who can we really trust? Besides Valentino … you can always trust Valentino. His two-tone camo-puffer, and more, below.
The Leather Jacket

A good leather jacket is always a wise investment because it is both a wardrobe staple and a statement piece. This timeless butter-soft chocolate option by Loro Piana not only looks great (two ways) but is also waterproof and wind-resistant, thanks to the brand's signature Storm System technology—making it a wardrobe triple threat. ($6,675, mrporter.com)
The Trench

Traditionally speaking, trench coats are beige and cotton. Don't be soo traditional. Try an equally minimal, yet less ordinary, color for your rainy-day wear—like this two-sided Yale blue and light grey option by Todd Snyder. ($995, toddsnyder.com)
The Bomber Jacket

In the wise words of Hershey's: Sometimes you feel like a nut, sometimes you don't. That same principle of choice applies to this monochrome bomber jacket by Alexander Wang. On one side you have a trendy, tie-dye print piece for those days when you want to dress a little more boldly. For all the days in between, the underside is solid jet black. ($1,095, eastdane.com)
The Down Jacket 

Double down on the sporty-luxe vibe with this Valentino puffer jacket, which offers two equally masculine and versatile shades of the camo-print. ($1,590, matchesfashion.com)
The Quilted Blazer

This lightweight, quilted jacket by Burberry Brit fits like a blazer but has the layering capabilities of a classic field coat. Styling tip: Try it with a vest under or over it. ($695, mrporter.com)
Nic Screws is the style director at Bloomberg. Follow her on Instagram and Twitter.
Before it's here, it's on the Bloomberg Terminal.
LEARN MORE