So How Many Democrats Are Worrying For Hillary?
As controversy swells around Hillary Clinton, leading Democrats weigh in on the seriousness of the e-mail revelations and the lack of a second tier of candidates.
By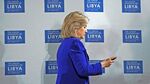 As Hillary Clinton suggested during her first presidential campaign, in response to questions about why she hadn't yet gotten out of a primary race she wasn't going to win, people do die.