Singapore Yield Luring Yen After Topping U.S. Debt: Japan Credit
Wes Goodman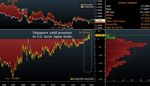 Singapore isn't just a destination for Japanese tourists. It's now becoming one for bond investors.
Ten-year yields of 2.33 percent were 21 basis points more than same-maturity Treasuries, and the premium reached a 16-year high of 33 basis points in February. The island-state's yields came within 16 basis points of Australia's last month. Japanese investors plowed a record 42.2 billion yen ($352 million) into Singapore bonds in January, up 129 percent from a year earlier, Investment Trusts Association of Japan data show.
Japanese investors' hunger for overseas yields is growing as central bank buying crowds them out of their own sovereign debt market. Bank of Japan holdings now exceed 20 percent of available bonds, pushing 10-year yields down to 0.4 percent and five-year yields to below 0.1 percent. The shift may add to the weakness in yen, which has slumped 22 percent in two years.
"Yields are getting more attractive in Singapore," said Hideo Shimomura, the chief fund investor in Tokyo at Mitsubishi UFJ Asset Management, which oversees $67.3 billion. "In Singapore, we only have a little exposure. There's a lot of room to invest. Japanese investors will be entering this market."
Singapore yields will probably climb past Australia's in the next few months as the South Pacific nation cuts interest rates, he said.
AAA Rating
While Singapore's bond market of $163 billion is only about 60 percent the size of Australia's, it's the only country in Asia that offers the same top-level AAA debt rank from the three major rating companies.
The city-state has a more stable currency, too. A gauge of one-month foreign-exchange volatility showed it ranked at the bottom among the 16 most traded currencies against the dollar. The Aussie swung around twice as much.
The central banks of Singapore and Australia have both eased monetary policy this year. The Monetary Authority of Singapore, which uses its currency as the main tool, changed its settings in January. Reserve Bank of Australia Governor Glenn Stevens indicated this week he may cut interest rates for a second time this year to support the economy.
Japanese investors bought 220.5 billion yen of Singapore bonds in 2014, data from Investment Trusts Association of Japan show. They purchased 2.8 trillion yen of Australian debt in January and 33.9 trillion last year, the data show.
Rising Tourists
As for tourists from Japan, visitors to the island-nation totaled 824,379 in 2014, according to the Singapore Tourism Board. The figure has jumped 68 percent from five years earlier.
Not everybody is convinced Singapore offers value. Sumitomo Mitsui Trust Asset Management will be staying away from the nation's securities, said Hideaki Kuriki, a fund manager in Tokyo for the company, which oversees the equivalent of $40.6 billion.
"Japanese people are not familiar with the Singapore dollar," Kuriki said in a phone interview March 3. "Japanese people consider Singapore to be an emerging country."
It would have been a profitable trade over the past six months, driven by a rally in the Singapore dollar against the yen. Bonds in the island-state have gained 4.8 percent in the period after accounting for changes in the securities and currency rates, according to data compiled by Bloomberg.
The figure is more than quadruple what Japanese investors earned from Australia's debt, the data show.
Singapore's top-rated bonds will be attractive to investors in 2015, said Vivek Rajpal, an interest-rate strategist in the city-state for Nomura Holdings Inc., Japan's largest brokerage.
"They are now offering a good yield spread over U.S. Treasuries," he said in a telephone interview March 2.
Before it's here, it's on the Bloomberg Terminal.
LEARN MORE