S&P 500 Growth Beating Value Has More to Come: Chart of the Day
David Wilson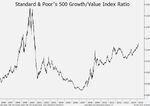 Growth stocks are setting the pace for the Standard & Poor's 500 Index as a bull market nears its sixth anniversary, and Credit Suisse Group AG's chart watchers see these shares extending the lead.
The CHART OF THE DAY displays the ratio of the S&P 500's growth and value indexes, as Credit Suisse did two days ago in a report. Each S&P 500 stock is assigned to one or both of the indexes according to its price relative to earnings, sales and asset values, along with other indicators.
Monday's closing level of 1.258 was the highest since November 2000, when the ratio was plunging. The S&P 500 Growth Index tumbled 40 percent relative to the value index from March 2000, when the indicator rose as high as 1.571, to March 2001.
The ratio's advance beyond its peak in 2011 "opens up further growth outperformance," David Sneddon, global head of technical analysis at Credit Suisse, and two colleagues wrote in their report. Before this year, the growth-value gauge rose as high as 1.23 in September 2011.
Sneddon, based in London, and his fellow analysts wrote that the ratio may rise as high as 1.29 before its advance runs into any resistance. They raised the possibility of an eventual advance to more than 1.40.
The growth-value gauge closed at 1.185 on March 9, 2009, when the S&P 500's most recent bear market ended. Its lowest reading since then was 1.057, reached in August 2009.
Before it's here, it's on the Bloomberg Terminal.
LEARN MORE