Humans Lose Out as Robots Take Tokyo Stock Exchange
Yuji Nakamura and Toshiro Hasegawa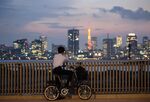 Yuji Honkawa knew the humans were losing by April 2010, when no matter how fast he sent orders to be filled at the Tokyo Stock Exchange, a machine beat him.
Unemployed now after 20 years dealing equities at seven different brokerages, the 47-year-old Honkawa watched as the market sped up and automated traders went from generating 10 percent of orders at the start of 2010 to as much as 72 percent last year. Among the men and women he battled to get prices for clients, 80 percent have left the industry, he estimates.
"It's kind of like the Terminator," Honkawa said in an interview. "The story is about humans and machines battling it out, and in the end the machines exterminate all the humans."
The rise of high-frequency trading has drawn widespread attention in the United States. Critics like Michael Lewis, whose best-selling book, "Flash Boys," painted the HFT crowd as villains, argue the practice gives people with the fastest computers an unfair advantage.
But for a variety of reasons, most of them reflecting the dominance of the Tokyo Stock Exchange, the shift in Japan has gone largely unnoticed outside the financial community. In a Bloomberg poll taken in July, 28 percent of respondents from Asia expressed a negative view of high-frequency trading, compared with 57 percent in the U.S.
The daily frenzy takes place quietly, in two data centers overlooking Tokyo Bay. Originally developed by Tokyo Electric Power Co., the buildings sit atop one of the largest electricity substations in Japan and are designed to withstand earthquakes, tsunamis and typhoons.
Computer Cages
Inside, thousands of computer servers belonging to high-frequency traders, brokers and the Tokyo exchange are stowed in refrigerator-size cages. Linked by miles of fiber-optic cable running along walls and ceilings, the machines are involved in nearly every stock, future and option trade, TSE data show. Since 2010, the value of shares bought and sold each year through HFT computers housed alongside the exchange's own systems has more than tripled to almost 270 trillion yen ($2.3 trillion), according to TSE data on turnover and co-location activity.
The machines are armed and overseen by the same high-frequency specialists that dominate U.S. exchanges, including Virtu Financial Inc., Tower Research Capital LLC and Hudson River Trading LLC. In all, several dozen firms employ software to match orders on the TSE's five-year-old Arrowhead trading platform at speeds more than 1,000 times faster than was possible five years ago.
Using everything from statistical arbitrage to artificial intelligence, and operating with the blessing of exchanges and regulators, the computers make money capturing spreads and other price discrepancies.
Making Money
But making money with high-frequency in Japan is harder than it is in the United States. That's because more than 90 percent of the stock trading happens in one place: the Tokyo Stock Exchange. The U.S. stock market, by contrast, has become highly fragmented, enabling computers to trawl for profit among 50 separate venues.
"'Flash Boys' definitely created a lot of noise in the U.S., but within Asia it would be less effective to execute those strategies because we mostly have single venues," said Dickson Mok, the head of central dealing at asset-manager Pinebridge Investments Asia Ltd. in Hong Kong. "It's not as fragmented here as America, and that puts a damper on that kind of HFT trading."
Muzzling HFT
In certain respects, the Tokyo Stock Exchange resembles a model that is sometimes advocated as a way of muzzling high-frequency traders in the U.S. Absent is the fee-and-rebate protocol used on American venues to encourage order flow, known as maker-taker. Jeffrey Sprecher, the chief executive officer of NYSE owner Intercontinental Exchange Inc., has said the practice may misalign broker incentives and cause them to work against the interests of clients.
None of this has slowed the high-frequency crowd in Japan. On average, speed traders bought and sold more than $9 billion of shares a day last year, firing off about 1,000 orders a second, exchange data show.
As in the United States, the ascent of high-frequency trading has spelled catastrophe for human securities dealers. Despite a 72 percent surge in daily trading from 2009 through last year and the highest profits in nearly a decade, Japanese brokerages shed 8,262 jobs over the last five years, Japan Securities Dealers Association data show.
Not all investors are happy, either. Some say Japan's HFT revolution has spurred volatility and, as a result, increased trading costs.
Magnifying Noise
"HFTs have the ability to magnify noise," said Goya Nakao, a senior investment manager at Sompo Japan Nipponkoa Asset Management Co., which oversees $11 billion. "The high intraday volatility is a real pain."
To limit the rapid-fire posting and canceling of buy and sell instructions, a strategy U.S. critics claim destabilizes markets, the Tokyo exchange charges a small fee on every stock order, whether it's executed or not.
"We implemented this practice back in 2005 to deal with a flood of orders from online brokerages, but it's now having a similar effect on HFT," said Tsuyoshi Otsuka, a manager at the strategic planning group at TSE. "I sometimes hear complaints that it prevents them from sending a ton of orders, so it seems to be having a deterring effect."
To cope with speed, large brokerages have replaced human traders with software packages designed to go head-to-head with the machines, the same algorithmic answer deployed elsewhere to foil HFTs. Pinebridge's Mok says his solution is to take his biggest orders elsewhere.
Minimizing Impact
"We prefer to do blocks off the exchange to minimize market impact and prevent HFT traders" from gleaning information, said Mok.
The head of asset strategies at Norway's $870 billion sovereign wealth manager said in November the fund was doing more block trades to avoid pattern-reading, while relying less on broker-developed algorithms.
Honkawa, an HFT casualty, says the players may have changed but the overall market mechanism hasn't. The computers are simply doing what he and other dealers always tried to do: move faster than the other guy.
"The winners are the ones who can buy and sell faster than everyone else," he said. "That core principle is still true in today's market. The only thing that's changed is how we do the buying and selling."
Before it's here, it's on the Bloomberg Terminal.
LEARN MORE