An Oil Firm That Raised Money Seven Months Ago Just Missed Its First Bond Payment
Jodi Xu Klein and Laura J. Keller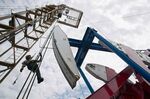 A Colorado oil producer is giving debt investors a lesson in the risks of lending to companies that staked their future on the U.S. shale boom.
Less than seven months after raising $175 million in a junk-bond offering, American Eagle Energy Corp. said Monday that it wouldn't make its first interest payment on the debt. Instead, it hired two advisers -- Canaccord Genuity Group Inc. and Seaport Global Holdings LLC -- to negotiate with bondholders on a plan to restructure its debt, according to three people with knowledge of the situation who asked not to be named because the matter is private. The holders of the notes are left to consider how to maximize recovery of their investment, either by giving the company more time to try to become profitable or by pushing it into default.
With the price of U.S. crude down 52 percent since July, American Eagle and other small energy producers with significant debt loads are struggling to service obligations to creditors who were willing to lend them money just a few months ago. The energy sector represents about 14 percent of the high-yield bond market, and analysts expect defaults to increase this year as more companies are forced to scale back operations and record losses on oil reserves previously valued at much higher prices.
Bonds Fall
The company's "small scale and relatively high drilling costs made it the one of the first victims of the drop in energy prices," said Spencer Cutter, a credit analyst at Bloomberg Intelligence. "It was also unfortunate that oil prices dropped so much soon after the bond was issued, causing it to skip its first-ever interest on the debt."
American Eagle Energy's first-lien bonds, which are secured by its assets, fell 10.25 cents to 31.75 cents on the dollar at 4:23 p.m. in New York, according to Trace, the bond-price reporting system of the Financial Industry Regulatory Authority. They traded at par in September.
The oil and gas producer, which operates in North Dakota's Bakken shale, has 30 days to make the $9.8 million interest payment before triggering a default on the 11 percent bonds due September 2019.
American Eagle Energy's shares have lost 96 percent since the bonds were issued in mid-August, closing at 20 cents in New York.
No Coupon
The rare occurrence of an issuer missing its first interest payment is referred to by people in the bond industry as NCAA, or no coupon at all, Cutter said.
Marty Beskow, a spokesman at American Eagle Energy, didn't respond to e-mailed messages and telephone calls seeking comment. Scott Davidson, a spokesman at Canaccord, and Tanya Alvear, a spokeswoman at Seaport Global, declined to comment.
The Littleton, Colorado-based company stopped drilling in November and suspended its 2015 capital plan because of the drop in oil prices, according to a statement Monday. West Texas Intermediate crude, the U.S. benchmark, traded near $51 a barrel on Thursday, down from more than $107 in June.
The driller's financial problems became apparent to lenders in December when its ability to borrow on a revolving line of credit, which was initially as much as $60 million, was canceled, according to a company statement on Dec. 31. To raise cash, American Eagle Energy closed out hedge positions that protected it from falling oil prices, raising $13 million that represented 414,000 barrels of oil at an average of $89.59 each, according to a Dec. 31 filing.